npower competition unearths ideas to revolutionise sector
28 April 2015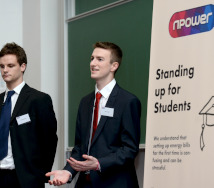 Warwick University has hosted this year's npower Energy Challenge, a nationwide undergraduate competition where students propose new business ideas for the 'big six' UK energy provider.
"Companies like npower realise the big energy providers in the UK are now under the spotlight as never before," commented Professor David Elmes of Warwick Business School, who closed the day by discussing the balance between investing in more supplies of energy versus using energy more efficiently.
The six teams of finalists reflected both sides of the supply-consumption equation with ideas including everything from crowdsourcing investment for new wind turbines to looking at how npower could support the way electric vehicles might supply power back to buildings and businesses when their drivers visit shops or go to work.
Several teams also focussed on encouraging a change in behaviour for how we use energy - with an app informing business customers of their energy use and a loyalty programme that rewards residential customers who learn more about energy use or buy more efficient appliances among suggestions.
The winning team however, was Birmingham Energy Developers, third year engineering students from the University of Birmingham. They proposed a service tailored to support students when they first move into private housing. They won a prize fund of £2,000 as well as paid summer internships at the energy firm.
Runners up were the Warwick Physics team with their myTurbine plan to allow customers to take a stake in wind power developments. They were awarded a £1,000 prize fund, and also paid summer internships at npower.
"npower were candid in discussing their on-going focus in improving customer service," commented Professor Elmes, "and all the large power companies across Europe face the challenge of how they develop successful business models to help customers use energy more efficiently.
"At the global level, we expect to invest $40 trillion over the next 20 years in sources of energy supply, but only $8 trillion in improving how efficiently we use energy.
"The emphasis these ideas placed on engaging customers in the more efficient use of energy offers an interesting message to companies like npower about the direction for future investment."
In announcing the winners, Stephen Rowe, Retail Marketing Director of npower, praised all the teams for their wide ranging and compelling ideas.
"There were a fantastic range of ideas, from those we can pick up and run with today, to some which could fundamentally change the way we approach the energy market," said Mr Rowe.
On the winning team's idea he added: "Often, the best ideas are right in front of us and we're just too close to see them. This is an innovative, customer-centric idea we can consider taking on board right away."