Only new products can sustain Apple's growth
28 January 2014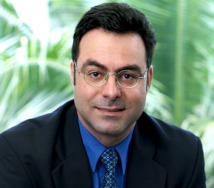 Professor Loizos Heracleous believes Apple needs to produce more blockbuster products to keep investors happy despite producing record quarterly revenues.
The Californian tech giant revealed revenues rose to $57.6 billion (£34.7 billion) for the first fiscal quarter of 2014, which includes Christmas, giving Apple a profit of $13.1 billion (£7.9 billion), matching its record surplus of a year ago.
Despite the impressive numbers, with record iPhone and iPad sales of 51 million and 26 million respectively, Apple's shares fell by more than eight per cent with investors spooked that it missed analyst predictions of even better returns.
Professor Heracleous, who is Professor of Strategy at Warwick Business School, feels the only way for Apple to keep producing the growth that investors want is by creating new products. especially as the high-end smartphone market is now looking mature in many parts of the world, and with more similarity across offerings from different competitors.
"Even though Apple has achieved record revenues and earnings per share, the growth rates of its leading products – the iPhone and iPad - are reducing," said Professor Heracleous.
"This means that to recapture the rates of growth that Apple historically delivered, Apple should introduce offerings of the calibre of these leading products.
"These category-defining, disruptive offerings are in the works according to Apple, and are expected to be released over the next few months."
Despite not meeting investors' expectations Professor Heracleous, who discovered Apple's 'Quantum Strategy' when researching the company, believes its competitive advantage in many areas means it is still a good company to bet on in the long term.
"Apple's performance did not fully meet analysts' growth and earnings expectations," said Professor Heracleous.
"But Apple's quarterly revenues were the highest in its history - and were also the highest quarterly revenues from any technology company ever.
"Even though analysts' expectations of growth were not fully met, the company performed reasonably well on this metric, given its already huge revenue and earnings base of $170 billion revenues and $37 billion net income in 2013.
"Apple's gross margins this quarter are slightly lower year on year at 37.9 per cent, but still exceptional for the tech sector."
Apple is planning a huge expansion in China and Professor Heracleous sees this as something that could well boost its performance over the next few years.
"China is Apple's engine of growth and the company is taking steps to consolidate the region's potential," said Professor Heracleous.
"Apple products are currently sold in 16 cities in China with plans to expand to 300 cities by the end of the year. Plus, 63 per cent of Apple's revenues came from international sales, indicating a sustained effort to broaden the revenue base towards emerging markets.
"Despite lower growth rates compared to its historical performance, Apple remains a solid company with enduring competitive advantages.
"These include its prowess in design, marketing, innovation, ecosystem creation and intense operational efficiency. Even if historical growth rates are not maintained, these competitive advantages are hard to beat by competitors, at least in the near to medium term."
For more insights follow Professor Heracleous on Twitter at @strategizing and visit his website www.heracleous.org.
Professor Loizos Heracleous teaches Strategy and Practice on the Warwick Executive MBA and MSc Marketing & Strategy.
See this article featured in the Daily Mail, Huffington Post, The Age, Sydney Morning Herald and Le Figaro.