Pinar Ozcan wins award for research on mobile payments
06 July 2017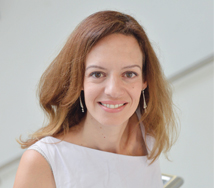 Research on the 15-year battle to control mobile payments wins award
Pinar Ozcan rewarded for cutting-edge study on emerging industry
Dean Andy Lockett presents the award at Summer Party
One in a long line of awards for Dr Ozcan in burgeoning career
Pinar Ozcan, Associate Professor of Strategic Management, has won recognition for her outstanding research.
The academic, who was selected for Poets and Quants' Best 40 under 40 Professors in 2017, was presented with the Outstanding Published Research Paper Award by WBS Dean Andy Lockett at the annual WBS Summer Party.
A panel of academics chose Dr Ozcan for her paper The Market That Never Was: Turf Wars and Failed Alliances in Mobile Payments published in Strategic Management Journal, one of the world's elite business journals.
It details the battle between banks, phone handset manufacturers and mobile operators that delayed the introduction of mobile payment in the West for 15 years.
Graeme Currie, Professor of Public Management and Pro-Dean for Research, Engagement & Impact, said: "Not only does this research make a significant contribution to the academic literature in a widely respected journal, but the topic is one of societal importance and in line with the school's strategy for wide impact.
"The school has worked hard to attract world-class academics and Pinar is certainly one of them. She is producing cutting-edge research that leads debates and deepens our understanding of management and business. I look forward to reading more of her excellent research."
Dr Ozcan, who has been at Warwick Business School since 2012, teaches Strategy and Practice on the Distance Learning MBA and Executive MBA (London) plus Strategy Analysis and Practice on the suite of MSc Business courses.
She completed her PhD at Stanford University and was at Spain's IESE Business School where she received the Excellence in Research Award before moving to WBS. Dr Ozcan has also won a host of awards for teaching, winning the University of Warwick's Excellence in Teaching Award five years in a row as well as the EFMD Best Teaching Case Award in 2009.
On the research side, Dr. Ozcan has won the IDEA Entrepreneurship Thought Leader Award for her entrepreneurship research in 2009 and received best paper nominations and awards from the Academy of Management Journal and Strategic Management Society.
Dr Ozcan said: "It is a real honour to receive this award at WBS where the research produced is of a very high standard, being published in top world-class journals.
"The research was fascinating and observing the political struggles between the different stakeholders in mobile payments was a real eye-opener, emphasising the importance of collaboration between prominent firms for the emergence of new markets.
"My current research focuses on the drivers and barriers in the development of the sharing economy as well as the future of banking with respect to the role of fintechs and new regulations regarding competition – really fascinating and high impact areas."