James Mitchell tells BBC GDP figures show UK is going sideways
25 January 2013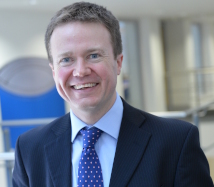 Professor James Mitchell told the BBC that the latest GDP figures show that the European Central Bank's promise to save the Euro is critical to the UK's hope that it can drag itself out of the longest 'depression' in living memory.
The latest GDP figures show the UK economy suffered a 0.3 per cent contraction in the final quarter of 2012.
The Warwick Business School Professor of Economic Modelling and Forecasting believes stability in the Eurozone could spark growth in 2013 if exports to Europe pick-up.
On the Mark Forrest Show, which is aired across every local BBC radio station in England, Professor Mitchell said: "The economy continues to go sideways and it does raise fears that we are heading for an unprecedented triple-dip recession.
"Taking a long-term view, and not reading too much into one quarter's data, what is clear is that UK living standards remain lower today than they were before the Global Financial Crisis hit in 2007 - in fact 3 per cent lower." (see graph).
"The traditional approach is to say a 'depression' is a really bad recession. But today's figures show that the economy is still depressed below its pre-crisis level of GDP. On this basis, we are living through the longest depression in living memory, including relative to the Great Depression of the 1920s and 1930s.
"However, the real story is of a 'Great Fall' in output and a "Not-so-Great" contraction in employment (see graph). The employment data released recently show that employment is no longer depressed below its pre-crisis level. But the GDP and employment data taken together imply that people's real incomes are being squeezed, with productivity surprisingly weak. This productivity puzzle raises concerns about how strong the recovery will be when it does come.
"The bounceback - or legacy - from the Olympics has been regrettably short-lived - at least as far as the economy goes. A year ago we were hoping that things might improve - but growth disappointed and flatlined. This year what is different is that there is renewed optimism that the European Central Bank will save the Euro. Since Europe is our main trading partner this could stimulate exports and support economy recovery in the UK.
"A lot of companies and banks are also sitting on money. The hope is that as optimism increases they will start to invest this money. Otherwise, and if the Eurozone crisis is not over, the fear is that 2013 looks very similar to 2012 and the UK economy will continue to flatline.
"The Government have tied their flag to the mast of austerity and there is little more the Bank of England can do after all the quantitative easing to stimulate the economy. So the risk is that the economy will continue to trundle along sideways."
Click here to listen to Professor Mitchell on the Mark Forrest Show. He is on after nine minutes.