Professor tells BBC: taxpayer will lose out if RBS sold now
12 June 2015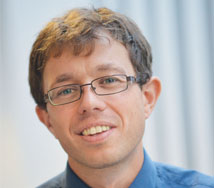 John Thanassoulis, Professor of Financial Economics has told the BBC that the UK taxpayer is certain to lose out when the Government starts to sell its stake in The Royal Bank of Scotland (RBS).
In his Mansion House talk on June 10, Chancellor George Osborne outlined the Government's plans to start to sell off its £32 billion stake in the bank, but Professor Thanassoulis has questioned the timing of the decision.
Professor Thanassoulis said: "The taxpayer will definitely lose out on this deal and, as a result, I'm not sure why now is viewed as the right time to start selling. It's unclear to me as to what has changed in the last few months or even in the last year to warrant such action."
RBS was initially provided with a £45.5 billion bailout by the then Labour government back in 2008: a deal working out at around 500p a share, a figure now standing at around 354.8p.
However, following the news the government is set to sell its stake to major City institutions in the coming months, shares have risen around two per cent.
Professor Thanassoulis believes the government should look at the successful selling of Lloyds and the private equity industry for guidance, rather than making a special case for RBS.
"When one thinks of the right time to sell a business there are typically two things you want to avoid doing," Professor Thanassoulis added.
"Firstly it is important to avoid being seen as a forced seller who has to accept whatever price is offered.
Many might look at the UK government and think to themselves 'there's a chancellor who has said he needs to find a lot of money to deal with the deficit and he needs to find it quite urgently' and that would maybe give the impression the government is such a forced seller.
"It would now be very damaging to RBS and Britain if the government were to come back without finding a buyer, and so they will be under pressure to accept low prices.
"And secondly, if you look at how other businesses do selling, for example within the private equity industry which is very successful in the UK, those in the sector typically aim to turn a company around before bringing it back to the market – as indeed was the strategy followed with Lloyds. So it isn't really clear why RBS has been made into such a special case here.
"Of course, RBS can be sold, but not for the money the taxpayer might have wanted.
"Currently RBS is not a finished business; it is still trying to sort out its investment bank. It is still reporting it is on what it calls 'an exciting journey' in small and medium sized enterprise lending and in current accounts
"But they face an investigation by the Competition and Markets Authority. They face substantial fines over sub-prime and so the structure of the bank is not yet clear. So while at this present time handing the bank over to someone else is possible, you will have to pay someone else to take the risk."