Project Pet wins the Big Deal Competition 2017
10 April 2017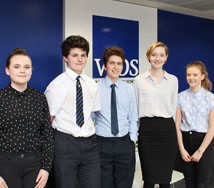 Project Pet idea impresses judges at Big Deal 2017
Year 10s from Ulverston Victoria designed the service to tackle loneliness
Dogs are loaned out to elderly people in the School's locale
Winning team had looked at the bigger picture in creating their project
An inspired idea to combat the issue of loneliness in older people has impressed judges at Warwick Business School's Big Deal Competition 2017.
Project Pet, the brain child of year 10 students from Ulverston Victoria High School, involved loaning dogs out to elderly people in the School's local area to help tackle loneliness. This in turn would provide an alternative for owners who would have otherwise been placing their pets in kennels.
The team, Emillie Tyson, Milo Williamson, Adi Begaj, Amelia Thompson, and Gabriella Wheeler, from Ulverston, Cumbria, impressed the judges with their exciting presentation and well-thought out business strategy, which included sponsored doggy hampers to provide those looking after the dogs with everything needed to care for them successfully.
Of their win, Emillie Tyson said: "The challenge has helped me to understand the complexity of developing a business.
"At face value you don't realise how much you have to do to make a business that's viable. I've definitely learnt to be resilient when it comes to setbacks and learnt that it's vital to communicate well with all team members and use everyone's inputs to the best ability.
"I will use my skills in the future to be able to more effectively plan potential ventures in my adult life.
"I've always considered university as the best option for me but I wasn't completely sure I was suited for it, but now I know it's definitely what I'd want to do.
"The Big Deal has given me an experience that most others haven't had and I think it'll help me to transition into a college or university environment as I've had the chance to attend lectures and learnt how to effectively use my time."
Terrific and consistent work
Tony O'Rourke, Research Adviser for Co-operatives UK and Visiting Professor at the University of Maribor (Slovenia), and the team's business mentor, congratulated the team and added: "They put a huge amount of effort into their presentation and idea; it was terrific work and they were very consistent through the competition period.
"I really only had to facilitate things for them, rather than telling them what to do, and that's the really important thing."
The Big Deal competition is a key element of the University of Warwick's outreach intervention, UniTracks , a four-year programme targeting the most able 14-18 year olds from across the UK promoting the values of higher education and to encourage young people from non-traditional backgrounds to aspire to study at research intensive universities.
This year's finalists included nine schools who travelled from across the UK to compete: Whitley Academy (Coventry), Eastbury Community School (Barking and Dagenham), Dowdales School (Dalton-in-Furness), Ulverston Victoria High School (Ulverston), Walney School (Barrow-in-Furness), Barking Abbey School (Barking and Dagenham), Bordesley Green Girls School (Birmingham), Dagenham Park School (Barking and Dagenham), and The Warren School (Barking and Dagenham).
The team from Barking Abbey School, last year's competition winners, were awarded second place for their creation of the 'Stepz' app, designed to challenge the issue of high teenage pregnancy rates by offering guidance on the topic of sexual health.
The complete picture
The prize, a trip to Europe, was presented by Craig Bentley, Head Judge and Warwick Business School MBA alumnus.
"The competition is a great opportunity for those students who really engage with it, they can learn a huge amount and hopefully even the ones that don't win will recognise that there's a lot of good learning and that the tasks and judging criteria are designed in a way to help them.
"The reason we decided upon Ulverston was really about the complete picture; it was obvious that they'd used the task to inform their decisions later down the line. They looked more broadly than just at the people they knew at school, they reached out to external stakeholders and they really took us on a journey with their business plan and presentation.
"You could really see where they came from and how they got to where they got to, you could see their thought process and it was obvious that they'd done a lot of work."
Also on the judging panel were Amanda Hodgkins and Lipi Sarkar, both of whom have acted as business mentors for previous Big Deal competitions, and completed their MBAs at WBS.
"The equation to success is determination multiplied by the opportunity you seek"
Andrew Bacon, OBE, CEO of Enactus UK, a non-profit organisation which helps students to improve the world through entrepreneurial action, delivered a short presentation after watching the competition.
Andrew told the students about the core values of Enactus, and highlighted the importance of students searching for, and taking opportunities.
"The equation of success is determination multiplied by the opportunity you seek and the opportunity you take," said Andrew.
"What was impressive was your ability to understand something that can't be taught which is your understanding of yourself, of society, and of community. Your ability to engage with the needs of others through the experience and the research, and the ability to go beyond what you might read and might be told. This is an incredible asset, an incredible aptitude, and an incredible attitude.
"The issues I saw within your projects were very impressive, I work with students who are 18 – 25, and many of the projects you touched on today were very similar to Enactus projects. Students with all the resources of the university, with a lot of time and investment over two years, came up with exactly the same ideas, exactly the same ambition."
Winning trip with Santander
2016 winners Barking Abbey School were rewarded with a trip to Madrid in February, where they visited Santander City – Head Office, to share their presentation with Borja de la Pena Larrinaga, Director of Strategy and Carlos Gonzalez Ramirez, Deputy Global Commercial and Business Director, both of Santander Universities.
Misha, a member of the winning team, said: "We were never bored because we were out exploring the city and didn't spend too much time in the hotel. Meeting with Carlos and Borja we learnt a lot about business and skills we will take on into the future. Presenting our idea to them boosted our confidence and their questions made us consider things about our idea we had not before."
Matt Hutnell, Director at Santander Universities UK commented on the value of the trip: "'Santander Universities work in partnership with close to 1200 Universities across 21 countries supporting students and staff to achieve excellence through Education. International experiences offer an amazing opportunity for students to broaden their understanding of the world and it was our pleasure to connect Warwick Business School with our colleagues in Madrid during their trip away. We hope that this experience has been enjoyable and provided an insight into both the Spanish culture and Santander's global operations."
Find out more about 2017 entry to our Undergraduate courses here.