Rain or shine app wins UK's first Nudgeathon
17 February 2015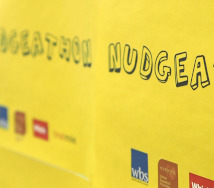 An app that persuades people to save money for a 'rainy day' by giving them a 'shiny day' prize saw students win £500 in the first ever Nudgeathon.
Held at Warwick Business School, the Nudgeathon saw teams of students come together to solve a problem set by consumer champions Which? by using the same science that has inspired the Government's 'Nudge Unit'.
Using theories from Behavioural Science in trials the Nudge Unit has helped triple the number of people paying car tax and increased the payment of court fines by 33 per cent.
Seven teams of students from the University of Warwick were given a crash course in 'nudging' by Warwick Business School's Behavioural Science Group, who advise the Nudge Unit, and design thinking by Rebecca Cain, of Warwick Manufacturing Group.
Which? then gave them 24 hours to solve the problem of under-saving. With household debt now at £1.4 billion in the UK, triple what it was in 1990, and four in 10 people admitting they find it difficult to cope with an unexpected expense, the Government advises people have a savings buffer able to cover three months' worth of essential expenditure.
The winning idea from Mariana Gaytan Camarillo, Sol Bourgeon, Chanuki Illushka Seresinhe, Joanna Wdowin and Ishita Gopal sees the Rain or Shine app turn saving into a game.
"Users choose between a snail, horse or cheetah option, where the animals' speeds represent different rates of saving," said Chanuki.
"Of course, the horse is the choice that we are nudging people towards by using various context effects. The app also splits a small percentage of the savings fund into a "sunny day" fund, which is used to sustain motivation. Once a milestone is reached, the sunny day fund is unlocked for 10 days to spend on a reward."
Daniel Read, Professor of Behavioural Science at WBS and one of the judges, praised the way the app made saving fun.
"It is a very clever idea to reward people for saving," said Professor Read. "The way they framed three different methods of saving using animals is a great way of persuading people to choose the sensible option – behavioural science has shown people tend to pick the middle option out of three, which is seen as the sensible or compromise option.
"The event was a great success and it has certainly given Which? something to think about. We are now planning to hold a bigger Nudgeathon and open it up to teams from universities across the UK and internationally."
The second Nudgeathon will be held at WBS London at The Shard at the beginning of September.