Relive the future of UK gas report launch
23 February 2016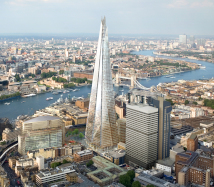 Welcome to the launch of The Future role of natural gas in the UK report at WBS London at The Shard.
The report has been written by a team of academics, including Michael Bradshaw, Professor of Global Energy at Warwick Business School, for the UK Energy Research Centre (UKERC).
It highlights the "lack of a clear vision of the future role for gas" in the UK's energy system and cautions that without Carbon Capture and Storage (CCS), a second 'dash for gas' could compromise decarbonisation ambitions.
Professor Bradshaw along with the report's co-authors Jim Watson, Director, HQ Staff, Programme Lead, Researcher at UKERC; Paul Ekins, Deputy Director at UKERC; and Steve Pye, Senior Research Associate at UCL's Energy Institute, will be speaking at the launch.
Among other things they will discuss how much gas use is compatible with meeting the UK's carbon emission reduction targets? How this is affected by the availability of CCS technology? And what is the likely timeframe for the continued use of gas in the UK?
Follow the event as it unfolds here on our live blog.