Rory Sutherland to talk on value of Behavioural Science
15 October 2013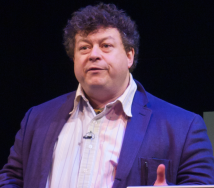 Ogilvy Group vice-chairman and executive creative director Rory Sutherland will reveal how Behavioural Science is changing the world of advertising at Warwick Business School this week.
One of marketing's most original thinkers, Mr Sutherland joined Ogilvy & Mather, an international advertising, marketing and public relations agency owned by FTSE 100 multinational agency WPP, in 1988.
He has risen from a junior copywriter to become one of the most influential voices in the industry, an early adopter of the insights from Behavioural Science.
Mr Sutherland was interviewed as part of Warwick Business School's first Massive Open Online Course (MOOC) The Mind is Flat: The Shocking Shallowness of Human Psychology.
Professor Nick Chater, head of Warwick Business School's Behavioural Science Group, interviewed Mr Sutherland for the six-week course that has caught the imagination of people from all over the world.
Mr Sutherland believes Behavioural Science or behavioural economics helps us turn human understanding into a business advantage.
"One of the problems with classical economics is that it is pre-occupied with reality and reality isn't a particularly good guide to human happiness," said Mr Sutherland. "Our experience of how much things cost doesn't depend on how much they really are, but how we view them. Things are not what they are, but what we think they are."
Warwick Marketing Society has invited Mr Sutherland, author of The Wiki Man, to their launch event on Thursday.
Watch one of Mr Sutherland's previous TED talks on YouTube and visit his blog at The Spectator here.
For details on how to attend the lecture click here.