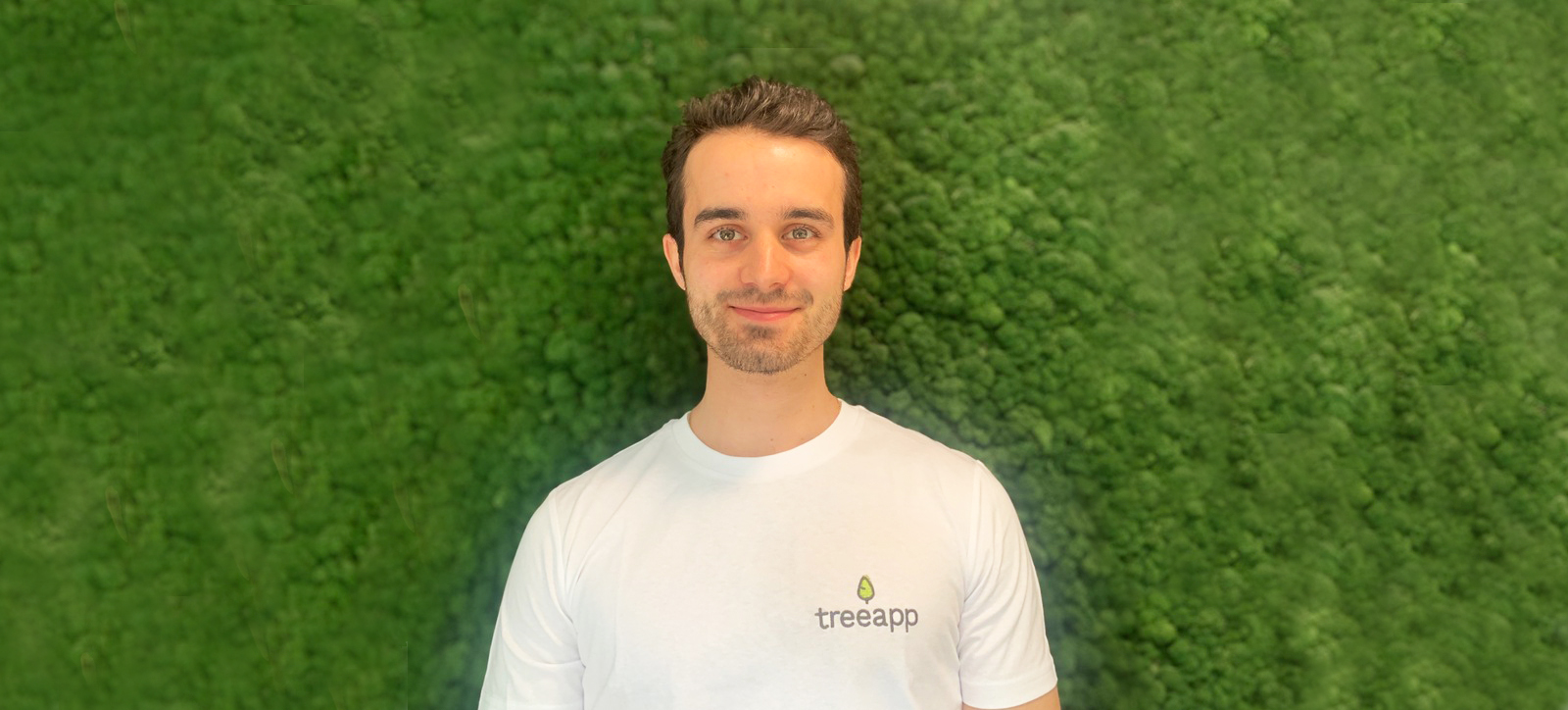 TreeApp's Godefroy Harito
So you'd like to do your bit to save the planet, and promise you'll get around to it one day.
Perhaps you can't spare the money, don't have the time, or simply don't know how you'd go about it. All perfectly reasonable.
Godefroy Harito's TreeApp lets you plant a tree every day. For free. In less than a minute. Via a few taps on your phone. What's your excuse now?
Godefroy, 25, from Athens, graduated with a BSc Management in 2017, which planted the seed for his TreeApp project.
Godefroy said: "The course sparked my interest in being my own boss and making a real difference in the world – and taught me how to create a successful business model to achieve this.
"It was being at WBS in general though that taught me how to understand myself, what I wanted from my career, and the work ethic required to realise it. It's these sorts of things you don't necessarily learn in a lecture room."
It is this drive that has allowed Godefroy to flourish in his career so far, and TreeApp is the prize fruit of his labours.
Founded in April 2020, the B-Corp certified social enterprise has already helped plant more than a million trees and provided thousands of days of work for people across 14 countries by producing a constant funding demand for more tree planters.
With more than 100,000 users across the UK and Ireland, 12 direct UK employees and hundreds of tree planters across the world, Treeapp is providing a direct link between green consumers and environmentally-conscious companies.
Users can navigate the app to select the reforestation project they would like to support and watch three adverts or answer three questions from sustainable TreeApp sponsors such as The Economist and Hello Fresh. That sponsor will plant the free tree, and users can then track their global impact and carbon footprint.
Organisations advertise with Treeapp in order to gain access to and potentially custom from environmentally-aware consumers.
How can we reduce our carbon footprint?
Godefroy said: "Planting four trees per week offsets the average UK citizen's carbon footprint. TreeApp makes that possible with less than five minutes of your time, from the comfort of your smartphone.
"A simple visualisation within the 'Impact' section of the app is designed to track your progress and motivate you to maintain a positive effect on the environment. We monitor the trees planted on a monthly basis via drone imagery and footage."
The breath-taking drone footage is provided by the local tree planters and shared on the app.
Aside from the intelligent efficiency of the app itself, TreeApp's global reach is all the more impressive. The app's reforestation projects span Africa, Asia, Europe and South America.
Godefroy said: "We place huge importance on who plants the trees and what effect the reforestation projects have, beyond carbon absorption.
"From water purification and wildlife benefits, to creating sustainable employment opportunities for indigenous people, we choose the most impactful and durable development projects.
"Madagascar is a perfect example of this - over the course of the last 150 years it has lost more than 80 per cent of its original forests, which makes it a priority for TreeApp."
It is bleak statistics like this that inspired Godefroy to create the app.
What are the dangers of deforestation?
Godefroy said: "The destruction of forest landscapes, from industrial and agricultural activities, is a major challenge in our fight against climate change and biodiversity loss.
"These landscapes are not only vital for carbon capture and biodiversity, but also provide livelihoods and ecosystem services to communities around the world.
"Equally, environmental awareness is becoming an increasingly important part of consumers' everyday lives. Translating this awareness into concrete actions, however, is the difficult part.
"I wanted to create something to make that transition from 'will' to 'action' easier."
That's something Godefroy has certainly achieved – but it didn't come easy. He launched the business with no external funding or investment, devoting endless hours and exhausting personal resources to develop his dream.
This bootstrapping business model eventually evolved TreeApp to a point at which it secured a €300,000 investment from a consortium of angel investors and a venture capital fund.
"I didn't make TreeApp what it is today overnight," said Godefroy. "It took me years of networking, failing, and starting over. People always see the bright side of entrepreneurship but ignore the hardships and disappointments.
"I would advise any budding entrepreneurs to expect and embrace failures - use them as seeds to flourish into trees!"