Singapore Prime Minister honours WBS alumna
18 June 2015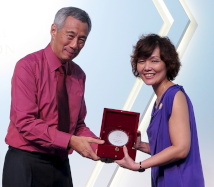 A WBS alumna has been awarded a prestigious national award by Singapore Prime Minister Lee Hsien Loong for her efforts in customer service.
Lynette Low, Senior Manager in the Customer Delight Management Department of Canon Singapore has won The Singapore Service Excellence Individual Medallion, Service Champion.
The award was bestowed to Mrs Low as she was the stand out individual in a category to determine who had best led and implemented service improvement initiatives into an organisation in order to raise customer satisfaction which positively impacted business results.
Mrs Low said: "It was great to receive recognition for my work. In truth, I'm quite surprised the government agency created the Service Champion category.
"I'm like an activist in the company, pushing for changes subtly and gaining trust gradually. I feel that after a long nine-year journey, the industry now recognises that there needs to be someone independent enough in the company to push management for changes."
Mrs Low has worked with Canon for 23 years, working as a marketing communications executive she set up the firm's Corporate Communications Department in 1996. As part of her efforts to promote customer service she also developed a company-wide Service Hero award as well as pushing for various changes to how the firm operates.
The judges at the award were all high profile leaders in the business sector.
This included a CEO of a government agency, an academic of a top university and a social researcher, as well as several top CEO within the service industry.
"I believe I won this award as I showed just what a service champion should be doing: pushing for recognition, pushing for changes using objective assessments, highlighting customer problems and making service recovery a joy for staff," added Mrs Low.
Lynette was part of the 2010 cohort of the Diploma in Service Leadership taught by Warwick Business School and delivered at the prestigious Singapore Institute of Management for the first time in 2007. Up until its end in 2012, the course was taught exclusively in Singapore to Singaporeans and people with permanent residency in Singapore.
Mrs Low believes the course was very useful for her work in customer service.
She said: "The course was very practical. The use of theories was immediately applied so it is still ingrained in me to this day. I still use many of the concepts in my work."
Mrs Low also played an instrumental part in Canon winning the Singapore Service Excellence Medallion, awarded to well-rounded organisations exhibiting strong service leadership and culture, people practices, service systems and innovation leading to superior customer experiences. The first multinational to do so.
John Thanassoulis, Associate Dean of Executive Education said: "It is good to see an alumna from one of our previous successful Executive Education programmes receive such a prestigious national award in her home country. Many congratulations to Lynette on her achievement.
"Our Executive Education suite is designed to complement professionals in their roles and bring out new skills, while toning existing ones. Lynette has shown just what can be achieved when combining work experience, desire to make a difference and academic study."
Find out more about the wide range of courses offered by Warwick Business School's Executive Education team by clicking on the link to our Open Programme list.