Six steps for networking success
27 May 2016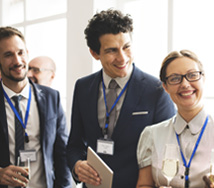 With networking regularly being cited as one of the key common denominators among many high flying executives if you have career success in your sights can this 'social art form' be one you can afford not to master? Careers Manager Fay Watkin shares some insights on where to start.
1 Self-confidence
Undoubtedly networking is key to growing our social capital so why do so many of us feel at a loss when it comes to acting out what – in theory – sounds all too easy?
Self-doubt is often cited as a reason to avoid networking and if this affects you then be sure to dedicate some time to reflect on your skillset and what you have to offer before you delve into such situations.
You don't have to have extroverted tendencies to be good at networking, but creating a strong and well-rehearsed USP (unique selling point) will undoubtedly give you the confidence to talk about yourself and communicate what you want when faced with a potential networking situation, so put the groundwork in first.
2 Gender differences
A 2016 British Psychological Society (BPS) study found that women's lack of opportunity to network, coupled with their undervaluation of social capital, can be particularly detrimental to their career progression, especially when aiming for the most senior positions.
This is echoed in the Davies review, which sets out several recommendations, including the improvement of networking provision for women.
If you feel this is holding you back, start by tapping into more accessible networks that will give you a platform to start widening your circles and growing your profile.
If you are a female WBS student or alumni you are able to join the dedicated Professional Women network. Run by a volunteer committee of Warwick alumni and students Professional Women allows members to invite guests, work colleagues, and contacts of their choice along to join events hosted by the network.
Additionally if you feel that such opportunities are lacking in your organisation, and have internal progression as a goal, consider raising it - in light of the Davies review now may be a good time to do so!
3 Wrong approach
For some, networking conjures up the thought of schmoozing with as many people as possible and courting them for as long as it takes to discover if they will be of any use to you…..or not. And if the latter becomes apparently, quickly ceasing all contact!
This prospect is understandably off-putting for most people with any sort of moral code, but I can assure you is merely a two-dimensional portrayal at best.
If approached in the right way building your network should be about quality not quantity.
Although not everyone you meet will immediately jump out as a career progression worthy contact, it doesn't necessarily mean you should ditch them. Professional relationships need some time to flourish and your new found contact may well know someone who can help you even if they themselves can't.
4 Start close to home
A good place to start is by looking at your internal circles and reaching out to them.
If you are hoping to change jobs or even careers then don't keep it to yourself as your friends and family may have wider connections that could support the growth of your network.
Be sure to tap into these in the first instance, but as already mentioned, clearly communicate your USP and purpose before asking for help - first impressions count!
5 Look for industry connections
Most professions will have one or more professional bodies you can join, which can open up a host of contacts to begin meeting and forming relationships with, most of whom should have shared interests.
Go to organised events prepared and if you can access an attendees list be sure to research your top targets so you have some common ground to start the conversation with.
Think of the points you may want to raise about changes currently facing the industry you are looking to enter or progress within as this approach will help you create a credible persona, allowing others to have confidence in recommending you or disclosing potential opportunities for your career progression: essentially the end goal of networking!
As so many roles are gained through word of mouth this is a highly coveted stage to reach.
If no formal networks exist, you could also look for social activities to join where there will be other departments and target staff for you to meet. Alternatively, suggest professional internal networks - if you can demonstrate a positive business outcome for doing so you could be onto a winner!
6 Use it or lose it
Not knowing what to do with your network once you have built it can make your hard work seem fruitless, so be sure to take time to nurture your new found contacts and look for ways in which you can provide value to them so that the relationship has a higher chance of mutual success.
Positive networking is a two-way street so be sure to tune in your listening skills and think about what you can do for others, and if you promise something see it through!
WBS students and alumni have a host of networks available for them to tap into, including geographical and professional groups, many of which have both regular formalised and social events scheduled into the calendar.
And don't forget to connect in the digital world too (join the WBS LinkedIn group and make a start) as this can help keep connections fresh, and by dedicating time to maintain a well-managed profile you can sustain a steady interest in you and what you have to offer.
For more tips and advice on how to anchor your network visit the my.wbs CareersPlus page.