Smartphone market not a smart move for Tesco
08 May 2014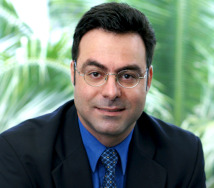 Professor of Strategy Loizos Heracleous warned Tesco that "getting into a fight with the big boys" might not be a smart move after the British supermarket announced plans for its own smartphone.
The supermarket giant's venture into the smartphone market comes after the success of its budget tablet device, the Hudl, which has proved to be a game-changer in the tablet market selling over 500,000 units since it launched in September last year. Tesco has also revealed that a second iteration of the Hudl will be available later this year.
But Professor Heracleous argues there is a difference between producing and selling a low-end tablet and a high-end smartphone, taking on the likes of Apple and Samsung, who have already seen off tech rivals in Nokia and BlackBerry.
Professor Heracleous, who has researched the smartphone sector, said: "Tesco is taking a big gamble going into such a challenging market even for a company of its size and global presence.
"The consumer electronics market is incredibly challenging even for established players. To win in this market, especially in smartphones, there needs to be critical mass as well as a way to differentiate the product from the several other options on the market."
It has been reported that the phone will run on the Android operating system, be loaded with Tesco services such as online grocery shopping, and be pitted against other high-end smartphones with its pricing. But Professor Heracleous is unsure whether the Tesco brand will cut it in the smartphone world.
"Tesco has the advantage of having an established customer base and brand recognition, but taking on the likes of Apple and Samsung will be very difficult," said Professor Heracleous. "This is a cut throat market and a long way from Tesco's core business."
Dr Markos Zachariadis, Assistant Professor of Information Systems, says Tesco's lack of experience in this market may show the company up in front of demanding technology consumers.
"Tesco's low-budget tablet might have been a good idea but a high-end smartphone is a bold and quite unpredictable move to make for a non-traditional tech firm with no technology manufacturing experience," said Dr Zachariadis.
"As the world increasingly uses mobile computing to access services on the internet the market for mobile devices and smartphones is expected to grow significantly, from almost three billion today to four billion in 2017.
"Yet the mobile operating systems war - with Android as a mobile platform open to many devices vs closed systems like that of Apple and Blackberry - has been a game changer in the field and has helped smartphone producers to focus more on hardware and other features in order to attract customers.
"Low-end devices have been able to capitalise on that by promising access to mobile platforms like Android at a low cost, thus, helping low-budget customers reap the benefits from using advanced software without paying a high price.
"The high-end market that Tesco is aiming at is somewhat different though. Mobile producers like Samsung, HTC, Apple and Sony have spent years developing high-tech devices, that include a long list of features to accommodate even the most demanding tech users out there. Breaking into that category directly and gaining the slightest market share is going to be very difficult for new starters like Tesco."
See this story featured at CNET, City A.M., Forbes and ValueWalk.
Professor Loizos Heracleous teaches Strategy and Practice on the Warwick Executive MBA and MSc Marketing & Strategy. Assistant Professor Markos Zachariadis teaches Global Finance and IT on the MSc Finance, Data & Business Intelligence on the MSc Information Systems Management & Innovation and Digital Business and Workplace Technology on Warwick Business School's Undergraduate courses.