Students and Alumni attend MBA Career Fair at Shard
20 October 2015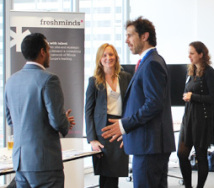 Warwick Business School welcomed over 150 MBA students and recent alumni through the doors at WBS London at The Shard for the inaugural MBA Careers Fair.
More than 15 different employers were present to discuss career opportunities with attendees including Amazon, IBM, Travis Perkins, Gallup and Newton Europe.
Oliver Walmsley, Director of Corporate Relations, was delighted with the turnout and optimistic the event's success would pave the way for further fairs and similar events in the future.
He said: "This was our first MBA Careers Fair, and the first event of this type to be held at our London Base in The Shard.
"We were delighted with the number of Warwick Business School students, alumni and company representatives attending this event, and hope to repeat it again in the future."
The full list of employers present for this year's MBA Career Fair were: Accuracy, Admiral Group Plc, Agilisys, Amazon, Capco, Capita, Fresh Minds, Gallup, Goldman Sachs, IBM, Infosys Consulting, Johnson & Johnson, Kellogg, Newton Europe, Schneider Electric and Travis Perkins.
Paul Ashraf of Amazon said: "We thoroughly enjoyed the fair, met some amazing students and prospective applicants for both our full time MBA Pathways programme and next summer's internships.
"We look forward to seeing their interest develop into applications in the coming weeks."
"The MBA Careers Fair was a great success,"added Malcolm Mumford, from Travis Perkins. "We certainly enjoyed ourselves and regarded it as a really worthwhile networking event."
"We spoke in depth to a number of MBA candidates, which gives us a great start in building relationships for the forthcoming year."
Paula Braithwaite, of Gallup, said: "I thought the event was very well organised and structured.
"There was a good turnout of high calibre students with some positive dialogue taking place. Gallup is very happy to take part in the fair moving forward."
James Maloney, of Newton Europe, added: "We enjoyed the event and found it a very effective medium to meet a large number of Warwick students and quickly get an impression of them.
"We enjoyed meeting other companies, the hosting was attentive with assistance always on hand, and as usual, the view was wonderful."
Find out more information about the range of Warwick MBA courses here.