Student's portable housing idea wows Big Deal judges
24 April 2015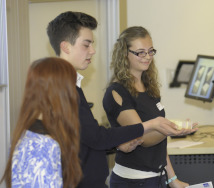 An innovative idea to solve the dilemma of people being left homeless following natural disasters has wowed judges at this year's Big Deal Enterprise Challenge, emerging victorious against 10 rival school teams.
Team Aspire from Lady Manners School, Bakewell, Derbyshire, consisting of Ollie, Kitty, Holly and Rebecca had the idea for their social enterprise after seeing a number of disasters including the earthquake in Haiti and deciding it was a problem they could help solve with their innovatively designed temporary homes.
The Pop-Up-Pod (PUP) units, made from plywood sheets and strong box beams, can be used individually, built together to offer an extra room in the garden, or added on to existing rooms to make a shared living space bigger.
As part of their intensive research on the topic, team Aspire took their idea to Oxfam, receiving positive feedback from the charity
The team were even able to take influence from Oxfam, noting a tent would make a sensible addition to the PUP packs as a temporary measure prior to their pod's complete assembly.
The team leader, Ollie, who initially came up with the idea for the PUPs, said: "it's amazing to win, we've put a lot of work in and we've really enjoyed the whole thing.
Holly, the financial guru of the team, added: "I'm speechless and really pleasantly surprised we won. We all pulled together as a team for the project and added bits to it.
"We realised we could help so many people, as well as coming up with something that works as a commercial business idea too."
Jenny Johnson, Most Able Co-ordinator, Lady Manners School said: "The students have benefited considerably from participating in the Big Deal. I am delighted to see them success in a very challenging competition"
Team mentor Rachel Knott, a final year BSc International Business student said: "I'm absolutely thrilled for the team, they were very energetic, very creative, very driven, it was a very admirable idea. It was a privilege and pleasure to work with them."
Team Aspire's business mentor, Paul Broadbent added: "They actually talked about the charitable side of things first, which was very noble, but we discussed with them how they'd need to get the business idea off the ground with the garden office in the first year designed to get them some money for the charity side of things."
The Big Deal is a core part of the University of Warwick's outreach intervention, UniTracks , a four-year programme targeting the most able 14-18 year olds from across the UK promoting the values of higher education and to encourage young people from non-traditional backgrounds to aspire to study at research intensive universities.
In total 11 teams of between two and five Year 10 students from across the country took part in the 10-week competition, working alongside both a business and a student mentor to create a business or social enterprise plan. The prize: a business trip to a European city to meet a senior business contact, present their idea again and learn about global business or social enterprise.
The teams had to pitch their idea to a panel of judges before the top two teams Aspire and Dinkem Electronics then went head to head in the final.
The final was fiercely competitive this year and left Craig Bentley, Head Judge comparing the complexities of judging a winner to a tense UN peace summit.
Mr Bentley, an Executive MBA graduate who has worked in management positions for Caterpillar and Haulotte Group, said: "Congratulations to all the teams, but especially the two finalists. A UN Peace Council has nothing on the final 20-30 minutes we've spent on deciding the winner!
"The winner was ultimately decided based on the entire journey from the very beginning, coming up with the idea, going through the research and speaking to customers using that feedback to influence what they came out with at the end.
"It came down to who understood the idea of the Big Deal from the beginning to the end and got the best learning outcome from the process."
The runner up, Dinkum Electronics, five girls from West Park School in Derby, also impressed the judges with their two ideas: a Yo-Yo-Rap and Funky Tape. The first idea being a novel way to store headphones in a yoyo style case to avoid tangled wires, and the second a tape designed to stop headphones breaking around the jack.
The team consisting of Mollie, Olivia, Caitlin, Ellie and Georgia each won a £20 Amazon voucher.
Mollie, the team leader, said: "We came up with the idea as between us we keep breaking headphones, so we can imagine parents thinking, oh no not another pair broken! My parents always went mad how many headphones I was breaking.
"Me and my friends have the issue all the time of the funky tape as something to help avoid broken issues too. Everyone has this issue, how does it happen? Well that's what we wanted to solve!
A special student mentor award was also presented to Joe Wareing, a final year Accounting & Finance student who returned to the life changing competition almost ten years after participating as a year 10 student.
He said: "Returning to the competition was everything I expected. There were some really great ideas and presentation by all the groups.
"I'm grateful for the award and the recognition, but with such a hard working team and business mentor in James, I don't think Synergy needed much input from me, I only tried to help out where I could."
Ashley Roberts, Assistant Dean of Warwick Business School added: "All the teams did really well and can say they've learned many business skills they'd flagged at the beginning of the course as something they wanted to improve.
"They've learned to work well with people, whether friends or new faces, communicate well, research, budget, utilise social media and tackle decision making and problem solving. Skills to really help stand out and express themselves."