Students wanted for Data Science for Social Good
24 January 2020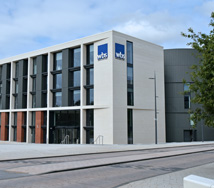 Second Data Science for Social Good programme to be held at Warwick
The 12-week Summer Fellowship is for students, graduates and enthusiasts
Fellows work on real-life projects provided by charities and non-profits
Last year's programme helped the homeless, public transport and more
Applications are now open for the second Data Science for Social Good Summer Fellowship being held at the University of Warwick.
The Data Science for Social Good (DSSG) initiative was started at the University of Chicago in 2013 and sees students, PhDs, graduates and data science enthusiasts come together to learn new skills and work on projects submitted by charities, public organisations and social enterprises.
Last year, the DSSG was run at the University of Warwick for the first time, and saw teams working on projects ranging from helping services reach the homeless quicker and improve public transport for low income areas to helping over-stretched staff at Ofsted target high risk foster agencies sooner.
This year, the DSSG at the University of Warwick is led by Warwick Business School, in collaboration with The Alan Turing Institute. The US fellowship is now based at Carnegie Mellon University in Pennsylvania.
Juergen Branke, Professor of Operational Research & Systems and DSSG co-ordinator, said: "Last year's DSSG was a great success and our partner organisations were extremely happy with what the teams produced. Just mining the data can help them achieve more with less resources, or even help argue their case with local authorities and the Government.
"There are many organisations working hard to do social good who are collecting vast amounts of data in this digital age, but don't have the resources or skills to make the most of it.
"The DSSG helps them unleash the potential of their data and the improvement in their services can be truly astounding. For instance, Homeless Link, which created an app so anybody can send the organisation alerts when they spot a rough sleeper, will now be able to reach more homeless people by prioritising alerts appropriately."
Who can apply for the Data Science for Social Good Summer Fellowship?
The 12-week DSSG programme will run from June 15 to September 5 at the University of Warwick and will include lectures and hands-on workshops with mentors from the global data science community.
Graduates and undergraduate students, PhD students, data scientists and researchers have until January 31 to apply for the initiative which, since its inception, has seen more than 200 students spend their summers with the DSSG.
Professor Branke added: "This is a full-time commitment offering a generous stipend. The project-based training programme is designed to develop data scientists who have strong skills in solving real-world problems and a passion for social impact.
"The DSSG 2020 programme gives aspiring data scientists the opportunity to work on data science and machine learning projects with social impact.
"Participants will work with global Government and non-profit partners on projects that help these organisations do more with data to improve their services, interventions and outreach, allowing them to fulfil their mission of bettering the world and people's lives."
The programme is open to students and data scientists worldwide. To apply for the DSSG at Warwick, click here to go through to the Carnegie Mellon University application form.
Non-profit and Government organisations interested in providing a project for DSSG 2020 are also encouraged to apply at here.