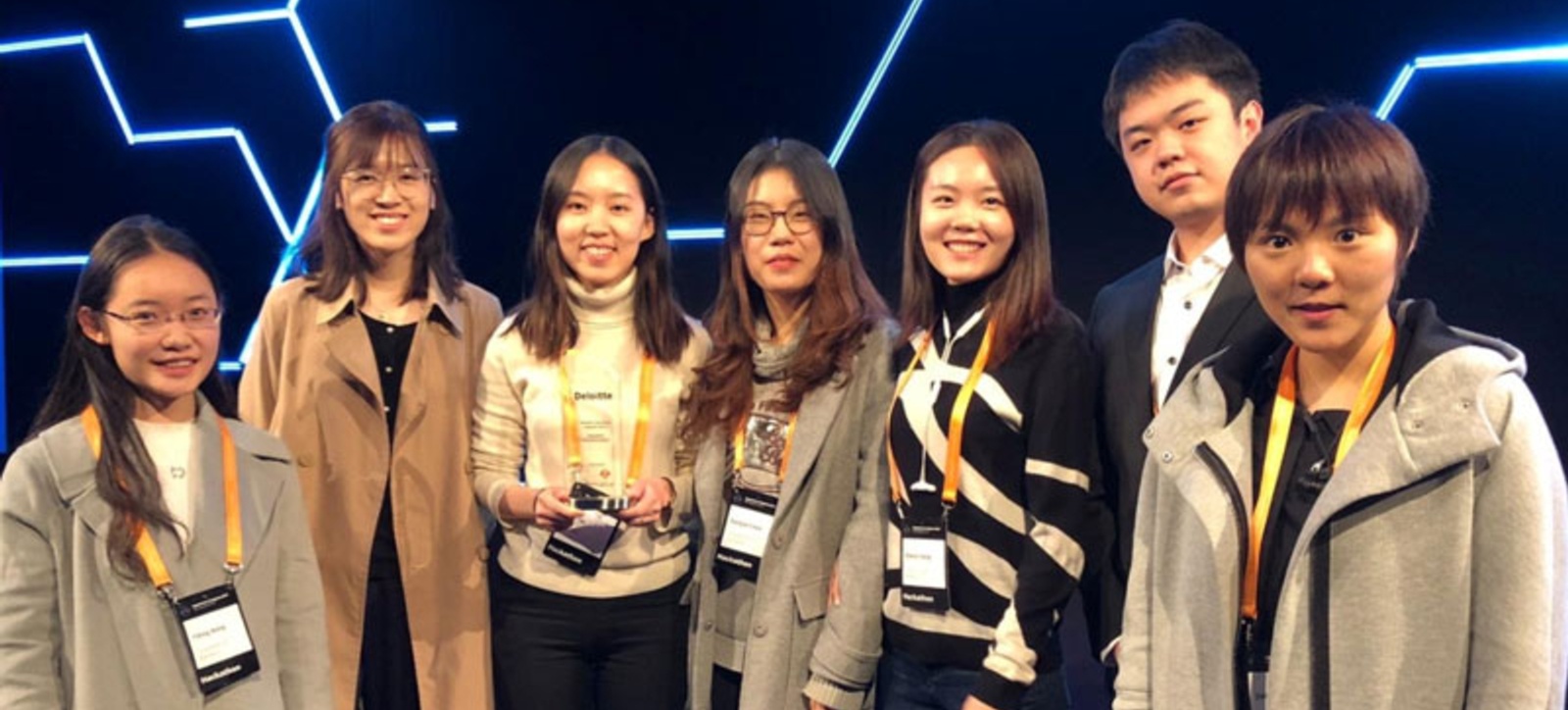 Six MSc Business Analytics wow jugdes to win Innovation Award
The students saw off data scientists from blue chip companies to win
Hackathon was on improving the first global air traffic surveillance system
Students praised for their data science skills and new perspectives
A team of Masters students are celebrating after winning the Innovation Award at Deloitte's Analytics Hackathon, which formed part of its Experience Analytics 2019 conference.
The hackathon saw teams of data scientists compete to improve the efficiency of the world's first global air traffic surveillance system, built by US tech firm Aireon, and using a space-based Automatic Dependent Surveillance Broadcast (ADS-B) network.
The WBS team of MSc Business Analytics students consisted of Dixuan Wang, Jialin Ye, Danyao Chen, Jiahui Shi, Yibing Wang and Dianjin Song, who could now see their solution have real world impact by optimising capacity planning, reducing travel delays and improving safety through real-time positional data.
Dixuan said: "It was an amazing journey attending the event. We never thought we would win the innovation award, so we were extremely excited when our names were announced.
"It was a huge challenge to complete the Hackathon project within the five-hour time limit, for we had never been exposed to such a huge amount of data.
"We are very grateful to both Deloitte, WBS and our tutor Arne Strauss for giving us this opportunity. We all learned a lot from other Hackathon teams and built networks with several experienced data scientists."
Held at Tobacco Dock in London, with up to 300 conference attendees watching on, the WBS team were the only students involved while the other teams came from data scientists at the likes of bank HSBC, oil giant Shell, National Air Traffic Services, motor group AA, and insurance firm AXA.
The teams were given a mountain of data to use their analytical tools and skills on, including data tracking information for all flights across the North Atlantic, such as the departure time, the weather condition of the departure airport, longitude and latitude positions etc.
Jialin added: "After data cleaning and data integration, we successfully integrated the two data sets of Aireon flight tracking and weather via Python and SQL, with around 400,000 and 370,000 entries respectively.
"Our group looked at the factors behind flight delays. Considering the massive amount of data, we used R and SQL language to clean the raw data. In order to find the most informative factors, we adopted the information gain algorithm and found out the four most important factors affecting the flight delays, which were wind speed, pressure, visibility and cloud cover.
"After that, a decision tree was constructed using the four factors that had the largest information gain. Our business insights were visualised via importing a datafile to Tableau and R, including the average delay time of different ports and airlines, and the relationship between the most informative weather condition and flight delay."
Danyao said: "Managers from Aireon took notes about our findings and said they will examine it in the future. It is exciting to see that our findings could have real world impact by optimising capacity planning and reducing travel delays.
"We faced lots of challenges during the Hackathon. We spent more than two hours joining two datasets together, while the initial data cleaning process took us too much time. If given more time, we would spend it on exploring the influence of weather conditions on the punctuality rate of flights, as well as the correlation between different weather conditions."
Deloitte's Experience Analytics Conference 2019 brought together C-suite and senior executives to discuss and share insights on the latest trends in AI and analytics, and how these technologies are impacting business decisions.
Fei Liao, Deloitte Experience Analytics 2019 Hackathon Lead who studied BSc MORSE at the University of Warwick, said: "As a Warwick alumni, I was extremely proud of the team who took home the Innovation Award at our Hackathon.
"As the only student team at the event competing against industry experts, they impressed our judging panel with the fresh perspectives they brought to the room, as well as their solid knowledge of data science, which enabled them to reach the prediction stage.
"They have shown that they have considered more advanced methodologies going forward, and we look forward to seeing how they'll take their ideas to the next level."