Summer 2013 graduation
01 August 2013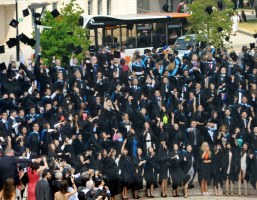 Summer Graduation at Warwick took place over six days in July, with WBS students graduating on two days - Wednesday 17 July for undergraduates, and postgraduate and post-experience students on Saturday 20 July. Around 1,000 students graduated, with getting on for three-quarters of these able to attend in person on campus across the two days, many of them travelling with their families from distant countries and continents. A summer heatwave ensured everybody – graduates, guests, and staff – was ready for refreshment at the WBS-hosted celebratory lunches.
Wednesday 17 July – Undergraduates
The BSc Accounting & Finance Undergraduate Partnership Programme (UPP) saw its first group of students graduate. This programme launched at WBS in October 2010, and was developed by The Institute of Chartered Accountants in England and Wales (ICAEW) to offer accounting and finance undergraduates the opportunity to gain a year's work experience in a professional accountancy firm or similar business environment as part of their degree.
Pictured left are Edward Vaughan, Rebekah Ingham, and Robert Carlton. Their fellow graduates are Alimat Temitope Balogun, Damyan Dimitrov, Yiran Liu, and Amrit Mahbubani.
Among those attending were active alumni ambassadors Nick Jessett, Alan Mason, and Richard Carter. Nick is a mentor for current WBS students; the Mentoring Programme, run by the External Relations Office, is currently seeking more mentors to meet demand. Pictured right is Martina Carli (BSc Management) from Milan, Italy, who benefited from career path and internship advice from Nick. She now has a summer internship at Jesa Consulting in Shanghai, which provides advice on setting up and doing business in China. In October she has a place at the London School of Economics to study for an MSc in International Management.
Nick comments, "The Mentoring Programme is actually a two-way process, of benefit for both mentor and mentee. I welcome the fact that I can contribute to the futures of our brightest young business graduates who will go on to be leaders in their chosen career."
WBS graduates this summer are now moving on to prestigious higher education institutions, such as Martina, and Andreas Scheriau, (BSc International Management), who is going on to study for a Masters in Banking & Finance at Switzerland's St Gallen University.
Others are going straight into employment. Charlotte Lunn (BSc Management) is "delighted and excited" to be going straight onto the first rung of her career - moving in February next year to Columbus Ohio in the US.
She has accepted the post of International Merchandiser at the lifestyle clothing retailer Abercrombie & Fitch, and three further WBS graduates also have employment with this company.
Saturday 20 July – postgraduate and post-experience
An inspiring speech to all WBS graduates, their guests, and numerous faculty and staff from WBS was given in the Butterworth Hall by Warwick alumnus Dhruv Batra, Director for the Batra Group of companies in India. Some 650 graduates and guests then gathered for the WBS-hosted reception and lunch, taking over most of the Rootes building in the process. This event, following on from the formal graduation, is a great opportunity to celebrate graduates' success and provides the opportunity to re-connect and exchange news with colleagues and staff from the courses.
WBS was delighted to recognise the following high-performing MBA graduates for their achievements:
Best overall performance
Mark Leddy (Full-time MBA), Darren Phillip Mee (Distance Learning MBA), Jonathan Simpson-Tarling (Executive MBA), Elena Ferrandez Gonzalez (Global Energy MBA)
Best dissertation
Carolin Spalteholz (Full-time MBA), Ian Davis (Distance Learning MBA), Michael O'Hare (Executive MBA), Stuart James McAleese (Global Energy MBA)
Outstanding MBA citizen
Jochen Schmieg (Full-time MBA), Mignon Mapplebeck (Distance Learning MBA), Stephen Evans (Executive MBA), John Armstrong (Global Energy MBA).
Successful career change, promotion, and job satisfaction are major reasons for studying for a Warwick MBA. Here are just three examples from this summer's graduates:
Mark Leddy is now Clinic Director of the fast-expanding veterinary practice Your Vets;
Ian Davis now works at Jaguar Land Rover as International Manufacturing Manager and furthered his career with this move;
Ian and Mignon Mapplebeck (pictured left) not only met and married through the Warwick MBA, they also set up their management and engineering consultancy Solutions Engineered Excellence.
Faculty awards
Graduation Week was not just for students – WBS faculty also received awards.
Higher Doctorates were awarded to no less than 11 WBS professors: Söhnke Bartram, Nick Chater, Graeme Currie, Keith Grint, Lloyd Harris, Andy Lockett, Paul Marginson, Jonothan Neelands, Duncan Shaw, Deniz Ucbasaran, and Qing Wang (see full report here).
Higher doctorates, a form of 'lifetime achievement award', are awarded to academics who have shown a considerable, original, and sustained contribution to their field of scholarship at the very highest international level.
Louise Gracia and Ashley Roberts received their Warwick Award for Teaching Excellence, given to recognise and celebrate excellence in teaching and support for learning at Warwick.
Dean of WBS, Professor Mark Taylor, comments, "I congratulate all of our 2013 graduates, and am delighted to welcome you into a growing family of alumni, now totalling some 40,000 across the globe. Whilst graduation marks the end of one phase of your relationship with Warwick Business School, we know this is not 'good bye'.
"Higher education is an investment in your future career, and we aim to assist you by providing a lifelong return on this investment. Our vision is to be the leading university-based business school in Europe, and we ask that you keep in touch with us, for our mutual benefit. We are intent on delivering not only extra value and a competitive edge to you as you go forward into your careers, but also all the added benefits of belonging to the Warwick and WBS network of graduates."
Further information
Graduation photographs taken on campus at the WBS-hosted lunches are available on Flickr:
Wednesday 17 July – http://www.flickr.com/photos/wbs-ac-uk/sets/72157634840010747/
Saturday 20 July – http://www.flickr.com/photos/wbs-ac-uk/sets/72157634841548709/
Finally, two WBS alumni groups in the UK are holding 'welcome' events for new alumni:
Monday 2 September (London)
Tuesday 3 September (Birmingham).