Sustainability and the low carbon economy
19 February 2014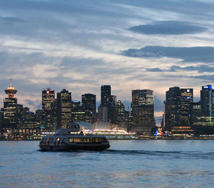 Warwick Business School's Global Energy MBA students have taken a trip to Vancouver to learn about the North American climate agenda, what sustainability really is and how it fits into corporate social responsibility.
The visit not only gave students the chance to gain a broad global perspective on sustainability and environment issues but also to discover what it is really like to be in a leading edge clean technology company and to look at a bioenergy facility close up.
"It's important to learn from the past to reach a low carbon goal and to achieve growth sustainability. Coming to Vancouver to discuss these topics with a range of people from around the world from different industries and seeing the work that has been done on sustainability here and the collective action taken is important," says Shane Malone, a Sales Manager and Global Energy MBA participant
Watch the film below to find out how the trip to Vancouver has brought alive the course's classroom insights.