Tech giants Apple and Facebook need more women
17 October 2014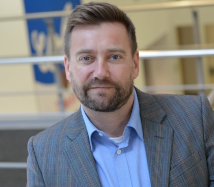 Professor James Hayton is not surprised leading tech firms Apple and Facebook are seeking innovative ways to attract talented women and tackle the gender imbalance in a sector overwhelmingly dominated by men.
Apple and Facebook revealed they will be offering female staff the chance to freeze their eggs in an effort to coax more women into the technology industry.
Although women make up 57 per cent of the US workforce in professional and related occupations, they represent only 26 per cent of professionals in the computer and information field. This is down to male domination in the education fields of engineering and computer science, coupled with a masculine business culture according to Professor Hayton.
The Professor of Human Resource Management said: "Tech firms wish to do a better job of appealing to the women who make up more than half of the workforce. It is not surprising that the most innovative of these firms are seeking ways that will directly help them attract talented women."
Facebook and Apple are both introducing new schemes, such as freezing eggs for female employees in order to retain and attract more females to the sector. That, and other perks such as longer parental leave, emerged in Apple's case from human resource head Denise Young Smith asking the firm's 96,000-strong workforce what kind of benefits they would like to receive.
Facebook offers $20,000 (£13,000) for egg freezing, with the service typically costing around $10,000 (£6,216) and more than $500 (£310) a year to store them.
Fertility preservation is aimed at women staff in their 20s so they can continue to work and progress up the career ladder as normal, but not lose the opportunity to become pregnant in their 30s or 40s when their eggs may otherwise be less fertile.
Professor Hayton believes the firms will be praised for their actions in some circles, but will inevitably face criticism from others.
He said: "While many will praise Facebook and Apple for their forward thinking, they are bound to face criticism from a number of quarters.
"First, and perhaps most fundamentally, critics might note that while perks such as these are very impressive and innovative, broader pay equity might be an even stronger signal of the importance of women in the workforce.
"Second, especially in the US, there might be a strong reaction from religious groups with a deep concern over the tricky domain of bio-ethics and reproductive choices.
"Third, observers may be squeamish about the degree of paternalism when employers show concern for their employees' reproductive choices. Ultimately however, these policies are innovative and forward thinking, and likely to benefit the employers creative enough, and bold enough, to offer them."
In its latest diversity report, Apple reported its workforce is 70 per cent male. Facebook has reported a similarly high figure of 69 per cent.
Tackling such high figures will be on the minds of HR departments in the tech industry, especially for leading firms such as Apple and Facebook who will always seek staff at the top of their game. The media interest and publicity created by such schemes will help Facebook and Apple signal their interest in women workers.
Professor Hayton added: "Egg freezing is one in a long line of innovative HR practices intended to be attractive to educated people with many employment options, seeking a focus on flexibility in the difficult balance between work and life. The costs appear to be moderate, although not trivial, at about 20 per cent of average annual salary at these firms.
"The benefits, in terms of attracting and retaining employees, can be expected to significantly outweigh the costs. The positive PR will pay for itself by signalling these employers' values, with respect to women's control over this important life choice, to prospective female employees."
Professor James Hayton teaches Strategic Human Resource Management on the Warwick Executive MBA. Find out more about Human Resource Management on the MSc Human Resource Management & Human Relations which can also be done part-time at The Shard in London.