The 50,000 mile journey of Wimbledon's tennis balls
03 July 2017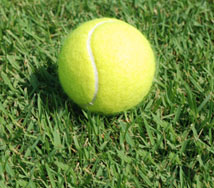 The tennis balls used at Wimbledon travel more than 50,000 miles
A global supply chain is used by Slazenger to make the balls
It crosses 11 countries and four continents before reaching Wimbledon
Manufacturing takes place in the Philippenes and then shipped to UK
The tennis balls used at Wimbledon have travelled 50,570 miles around the world before they land on Andy Murray's racket on Centre Court.
Slazenger is a quintessentially British sports equipment manufacturer and has been the official ball supplier for Wimbledon since 1902, with its headquarters based at Shirebrook in Derbyshire.
But their official Wimbledon ball flies between 11 countries and across four continents before being manufactured in Bataan in the Philippines and then travelling the final 6,660 miles to SW19 as illustrated in the graphic below
Mark Johnson, Associate Professor of Operations Management, has looked into the supply chain of the Wimbledon tennis ball and unearthed the surprisingly long and complex journey to one of the world's biggest sporting events.
Dr Johnson said: "It is one of the longest journeys I have seen for a product. On the face of it, travelling more than 50,000 miles to make a tennis ball does seem fairly ludicrous, but it just shows the global nature of production these days, and in the end, this will be the most cost-effective way of making tennis balls.
"Slazenger is locating production near the primary source of its materials, which if you look at most current supply chains today, is not the case.
"Before the financial crash when logistics costs were really high a lot of firms did this, but now it is not so common. But the tennis ball provides Slazenger with the perfect synchronisation of materials produced at a very low cost near to the manufacturing labour in the Philippines, which is also at very low cost."
A complex supply chain sees clay shipped from South Carolina in the USA, silica from Greece, magnesium carbonate from Japan, zinc oxide from Thailand, sulphur from South Korea and rubber from Malaysia to Bataan where the rubber is vulcanized – a chemical process for making the rubber more durable.
Wool then travels from New Zealand to Stroud in Gloucestershire, where it is turned into felt and then sent back to Bataan in the Philippines.
Meanwhile, petroleum naphthalene from Zibo in China and glue from Basilan in the Philippines are brought to Bataan where Slazenger, which was bought by Sports Direct in 2004, manufacture the ball. Finally tins are shipped in from Indonesia and once the balls have been packaged they are sent to Wimbledon.
Dr Johnson said: "Slazenger shut down the factory in Barnsley in the early 2000s and moved the equipment to Bataan in the Philippines. They still get the felt from Stroud, as it requires a bit more technical expertise.
"Shipping wool from New Zealand to Stroud and then sending the felt back to the Philippines adds a lot of miles, but they obviously want to use the best wool for the Wimbledon balls.
"Apart from that part, they have managed to keep the supply chain relatively short, and centred round the Philippines."
Mark Johnson teaches Operations Strategy on the Executive MBA.
For more articles like this download Core magazine here.