Publishing award for WBS Professor
08 May 2013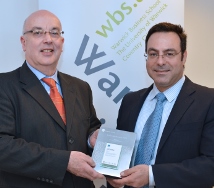 Professor Loizos Heracleous, together with his Doctoral Researcher Angeliki Papachroni, were presented with the European Case Clearing House (ecch) overall award for 2013 last week.
Their case, Strategic Leadership and Innovation at Apple Inc, was the first overall award for WBS. ecch Case Awards are given in several categories, and are fiercely contested by faculty at all the world's top business schools.
The award was presented by ecch Director Richard McCracken at Warwick Business School. The presentation was also attended by WBS Dean, Professor Mark Taylor, and ecch Executive Committee member Professor Kulwant Singh.
Professor Heracleous commented, "The Apple Inc case study provides a context where fundamental concepts such as leadership, alignment, innovation and competitive advantage can be explored and debated, with reference to an organisation with which everyone is familiar. The level of cognitive challenge can be tailored to the type of audience, and the extensive instructional notes provide several potential avenues for discussion. We are delighted and honoured to have been recognised by the ecch and by our colleagues around the world who employ this case."
Professor Loizos Heracleous teaches Strategy and Practice on the Warwick Executive MBA.