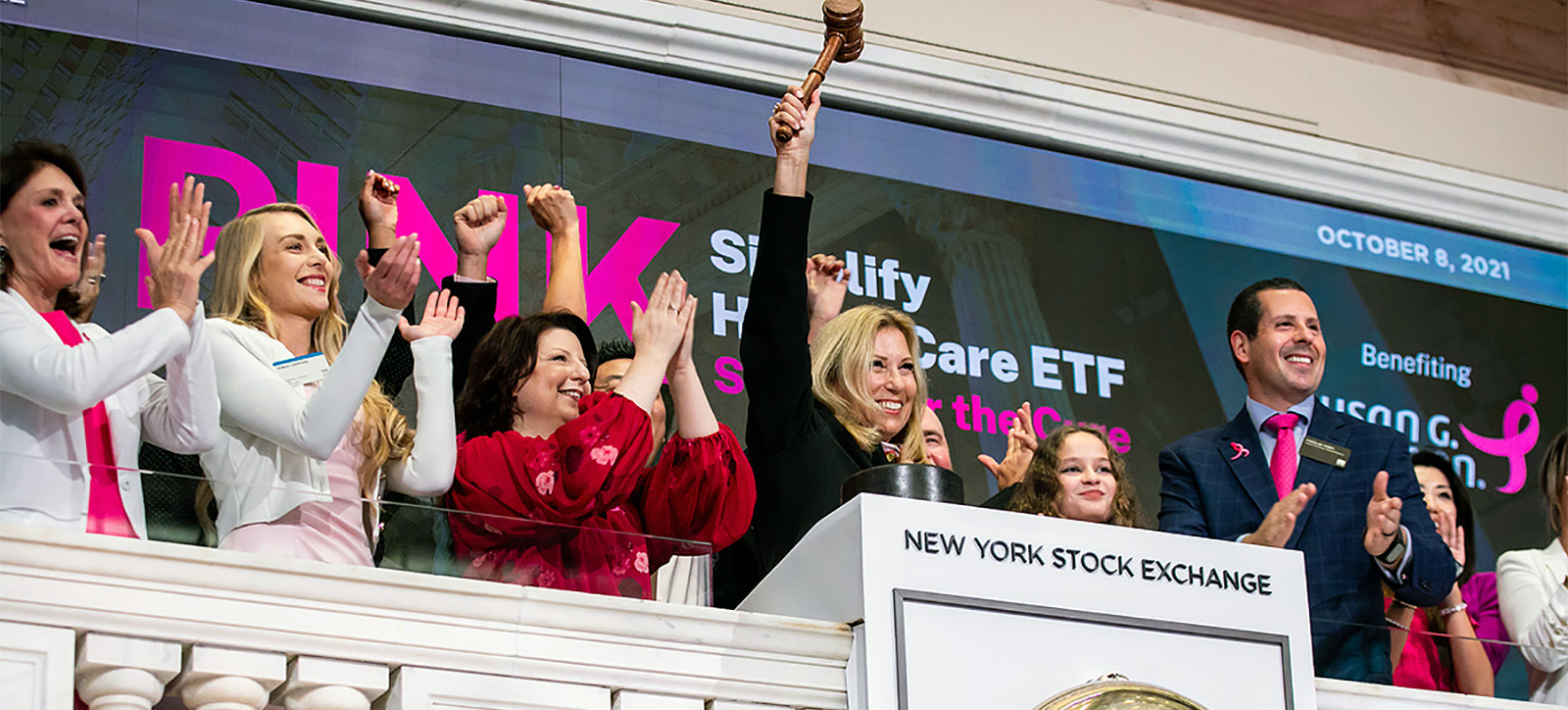 Ronja Lodmark (second from left) and colleagues ring the bell at the New York Stock Exchange
Wall Street firm Simplify broke new ground when it launched its new investment fund.
PINK is the first charitable Exchange Traded Fund (ETF) that donates 100 per cent of its net profits to the fight against breast cancer.
WBS alumna Ronja Lodmark was instrumental in the launch of the campaign – as well as its conception. The cause is a sentimental one for Ronja, who sadly lost a family member to breast cancer.
"My auntie passed away far too soon after battling the disease," said Ronja. "Breast cancer is unfortunately something that affects most of us in some capacity throughout our lives, including many of my colleagues.
"After some frank conversations and deep considerations, we decided this was the cause we would support."
While helping to create the fund, Ronja developed a relationship with Paula Schneider, CEO of Susan G Komen. That bond was cemented as they stood side by side to ring the iconic bell at the New York Stock Exchange (NYSE), surrounded by breast cancer survivors.
"Ringing the NYSE bell was an incredible experience," said Ronja. "It is common for firms to ring the bell when marking the launch of a new fund or IPO.
"It is not common, however, to stand on the podium together with co-workers, family, friends, and breast cancer survivors to celebrate the launch of the first charitable ETF of its kind. It was quite spectacular."
Ronja, 29, from Stockholm, gained her Full-time MBA at Warwick Business School after leaving Sweden to forge a new career.
"After graduating in BSc Psychology and Neuroscience, I began working for a FinTech firm and realised how exciting the world of finance really is," said Ronja.
"I needed to take the next step to propel in financial industries – and quickly came to learn about the WBS MBA programme. Being a leading business school with world-renowned academics, the decision was simple.
"The MBA programme provided invaluable tools and resources that equipped me to pursue a career in finance. After graduating, the WBS alumni community has served as a vital support and discussion group."
Ronja's journey after leaving WBS saw her gain a wealth of experience in the Fintech Industry across the UK and Europe, before landing in the US to become Assistant Vice President of New York-based asset management firm Simplify.
It was here Ronja took a role in helping the development of ETFs, investment vehicles that allow investors to access several securities under one tradable ticker.
How can business help charity?
The PINK ETF though, was different to any Simply had previously launched.
The entirety of PINK's net proceeds are donated to global breast cancer foundation Susan G. Komen, making it the first ETF of its kind.
"The PINK ETF is a truly unique initiative and something that is very near and dear to all of us at Simplify," said Ronja. "The goal was to create an impact fund where actual impact was transparent and quantifiable, and where shareholders could trace their contributions share by share.
"Investors are growing increasingly concerned with making social impact, but find quantifying that impact a sticking point. This was the idea behind PINK, we wanted to create something transparent and tangible that would contribute to a vital cause."
Breast cancer can affect women at any age after puberty, but the risk increases in later life. In 2020, there were 2.3 million women diagnosed with breast cancer globally and 685,000 deaths.
It is the world's most prevalent cancer. By the end of 2020, 7.8 million women were living with breast cancer having been diagnosed in the previous five years.
Foundations such as Susan G. Komen heavily rely on donations and increased visibility provided by initiatives such as PINK to continue their work supporting patients and their families, as well as funding crucial research.
Whilst proud of her accomplishments, Ronja is keen to encourage others to take a similar path – both in business and in charity. Her key advice? To be open and honest.
"True, transparent impact counts," said Ronja. "Many investors, especially of younger generations, are growing tired of impact and ESG funds that do not offer transparency around the impacts/contributions.
"The PINK project tops my list of greatest achievements in business to date. I have received nothing but positive feedback about the fund and its structure, and hope to see more funds aiming to do good out there."