The spaces of luxury conference at The Shard
03 February 2015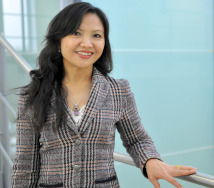 Warwick Business School is set to host a three-day event on the theme of luxury at WBS London at The Shard in collaboration with the Global History and Culture Centre at University of Warwick.
The spaces of Luxury: Places, Spaces and Geographies from the Renaissance to the Present conference will take place from February 5 -7 and see a host of leading academics and industry speakers discussing the role luxury has played, past and present, in society.
Qing Wang, Professor of Marketing and Innovation at Warwick Business School, will be presenting as well as chairing on some of the sessions. She believes the event presents a perfect opportunity for professionals and academics alike to understand the complexities surrounding the idea of luxury.
Professor Wang said: "Today's luxury industry is one of Europe's most dynamic sectors and is not just consigned to a small, well-off, elite anymore. Everybody has an interest in brands now, especially governments, who can make plenty of money by heavily taxing luxury goods.
"The Luxury Network at Warwick is proud to host a number of leading academics and industry experts over three days to share their knowledge on this really interesting topic.
"The themes discussed at this event at The Shard are part of the wider aims of the Leverhulme International Network to connect the long history of luxury with the importance luxury has assumed in contemporary society."
The keynote speakers on Thursday, Giorgio Riello (University of Warwick) and Peter McNeil (UTS, Sydney), will be discussing Luxury Capitalism: Places, Spaces and the Pervasiveness of Luxury.
Other sessions on the day will cover the themes of Commercial and Contentious Spaces of Luxury and Creating A Stage for Luxury.
Presentations in these sessions will include Maurizio Marinelli (University of Sussex), discussing Spaces of Luxury and Places of Protest: The Transformation of the Physical Structures of Retailing in Hong Kong and Mark Knights (University of Warwick), talking about Corrupt Places of Luxury: Britain and its Empire in the Early Modern Period.
Friday will see keynote speaker Christopher Breward (Edinburgh University) discuss the theme Capital City: London, Luxury and the Practices of Fashion. Other sessions across the day will cover everything from Creating Luxury Spaces and Luxury and Elite Practices, to themes such as In Richness and in Poverty and The Emotional and Sensory Spaces of Luxury.
On this day Caterina Tiezzi, of the V&A/RCA will discuss Luxury With an Agenda: Elite Women at Royal Ascot, 1895-1914, and Yasmin K. Sekhon (University of Southampton) will talk about A Cross-cultural Comparison of Luxury Consumption: A Study of India and China.
A number of Warwick Business School academics will also be presenting including Richard Taffler, Professor of Finance, and Professor Wang who, alongside Arman Eshraghi, of the University of Edinburgh Business School, will discuss Hedge Funds as Objects of Desire.
Qing Wang will join Paolo Antonetti, Assistant Professor of Marketing at Warwick Business School, on a second presentation with Xinyue Zhou and Jintao Wu, both of the Sun Yat-sen University, China, to discuss Feeling luxury or having luxury? Triggers, themes and goals.
Finally, Saturday's proceedings will feature keynote speaker Candy Li (Ogilvy & Mather, China), discuss the theme of The Digital Spaces of Luxury Brands.
Sessions throughout the day will cover a variety of themes including The National Spaces of Luxury, The Experiential Spaces of Luxury and a final panel discussing The Global Spaces of Luxury.
For more information on the conference click here and on the Luxury Network click here.