The student inspiring young girls to dream big
05 October 2017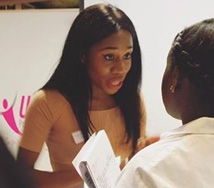 Victoria Azubuike inspiring others from council estates to follow her path
The 20-year-old's ground-breaking programme is attracting big business
Undergraduate named one of the top 10 black students in the UK
Foundation Year has given her the chance to study at a top university
Words tumble out of Victoria Azubuike in a torrent, it is almost as if her mouth can't keep up with her brain. And no wonder.
Victoria is a buzz of energy, relentlessly pursuing projects to help her community that would be a full-time job for most. Yet the 20-year-old manages to fit it around studying for her BSc Management as well.
Despite being on the board of London Youth and the Mayor's Fund for London, plus being a youth councillor for Islington in 2012, writing a fashion blog and once helping to run two youth clubs, Victoria has also set up the Us Programme to inspire young girls from disadvantaged backgrounds.
She is an inspiration for them as well. Brought up by her mum on an Islington council estate as one of five children, as a youngster Victoria would spend Saturdays selling homemade cakes on Caledonian Road.
With her mothers' advice that "education will break the cycle" ringing in her ears Victoria worked hard at school and has successfully graduated from Warwick Business School's Foundation Year, which helps disadvantaged youngsters access Warwick Business School, to now start a degree.
"My mum is my biggest inspiration," says Victoria. "She had to look after us all and she has been a really big influence in empowering us, believing in ourselves and telling us that education is a way out. It is so difficult if you don't see somebody who looks like you succeeding, but she instilled that belief in us."
Victoria is now trying to empower more young girls and show them how education can change their lives.
"When I came to Warwick I saw there were so many opportunities, so many societies, I couldn't believe it," says Victoria. "We don't have many things like this in my area and I wanted to show it doesn't matter where you start off or what your background is, you can go on and do amazing things.
"I was so privileged to be here at Warwick and so grateful I wanted to give something back and didn't know how. Then I listened to a panel discussion put on by Warwick Women in Consulting and it really inspired me. I thought 'I want to bring this back home and give this opportunity to them'."
Victoria launched the Us Programme in September, having worked on it throughout her Foundation Year, with a conference called 'She Who Leads' at Mary's Youth Club in Islington where she gathered a doctor, Youtuber, business owner, lawyer and a consultant – all women who came from similar backgrounds and now succeeding in their chosen career.
"It was fantastic," says Victoria, who also gives talks to schools around London telling her story and drumming up interest in the Us Programme. "We had 116 young girls aged 14 to 21, who listened to these inspirational stories and asked questions to find out about their jobs and lifestyles to realise they could do it to.
"Many organisations contributed including Lloyds of London and the law firm Linklaters, while Waitrose gave us free snacks and we received funding from the O2 'Think Big' fund.
"We organised a CV workshop and 'She Who Develops' with a professional development coach at Linklaters, where we had 97 applications for 40 spaces.
"Our most recent conference, 'She Who Achieves' had more than 120 14 to 19 year-olds from state schools in London turn up. We even had participants from our previous projects host this event.
"There are other big companies who want to get involved as well, as this is a big issue. They are all looking to increase diversity and the Us Programme can help, so young girls can understand how to get to these positions and are prepared."
Victoria's work has been recognised with the undergraduate being voted one of the UK's top 10 black students at the Rare Rising Stars 2017 awards. She was also selected to meet the Duke of Edinburgh as London Youth celebrated its 130th anniversary at Buckingham Palace.
"I was with him for an hour," says Victoria. "It was such an honour and a great experience."
At just 20 it has been an amazing journey from the little girl who sold cakes to people waiting at the bus stop.
"Me and my sister had a cake stall for years," says Victoria. "When you are 12 you are not meant to be doing such things from 8am to 3pm every Saturday. People would ask why we were doing it, and our response was we wanted to show kids can do good things as well.
"Growing up on an estate, we rarely went on holidays. We would have to keep ourselves occupied, we went to the youth club for summer holidays or signed up for courses, like cooking, hat-making, educational courses, we all had the mentality to get involved in our community.
"I hope I can show people where I come from that if you just work hard and aim high there are ways to succeed and have a good career.
"In my community they don't see people like themselves making it. Even when they say they want to be a lawyer, they don't believe they can be, but they can, I have seen it, and that is why the Us Programme is so important, because they meet people like themselves who have done it."
Coming from a disadvantaged background doesn't have to be a disadvantage. In fact in today's diversity-seeking business world, Victoria is showing it can be an advantage.