The UK No.1 and world No.2 in new Financial Times ranking
10 March 2014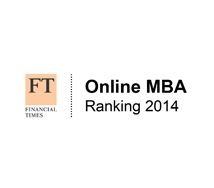 The Financial Times has published its inaugural Online MBA ranking, which ranks MBA programmes delivered by online and distance learning. Warwick Business School is ranked second in the world and top in the UK.
The ranking process involved surveying schools and their MBA graduates from three years ago, measuring four areas of activity:
Career progress - WBS is top in the UK for careers service
Programme diversity – WBS has the most international faculty
Idea generation – WBS comes top in the world for the quality of faculty and for its doctoral programme, and top in the UK for quality of research
Online delivery – WBS is joint top in the UK.
Already this year WBS has improved or equalled its rating in two other global rankings:
Dean of WBS Professor Mark Taylor commented, "We recognise that reputation matters, and rankings contribute to our reputation. We relentlessly pursue excellence in both teaching and research, and it is this effort, together with the successes of our talented and ambitious graduates, that is reflected in our strong performance in the rankings."
The full ranking and related editorial articles can be viewed on the Financial Times website.
Further information
WBS Dean Professor Mark Taylor has recently been interviewed by the Financial Times' Della Bradshaw, and talks about the strengths of the Warwick Distance Learning MBA. See the video on the FT's website.
The Warwick MBA is by intention and design a generic business degree for would-be leaders who already have managerial experience. It can be taken by full-time study, by distance learning, or with attendance at one-week modules on campus. All successful students graduate with a Warwick MBA; there is no differentiation made between study modes. Additionally, the Warwick Global Energy MBA is designed for managers working in or with the energy sector anywhere in the world.