The Warwick Executive MBA experience
05 June 2014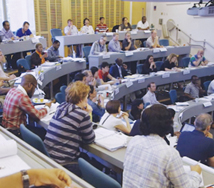 The Warwick Executive MBA course is ranked in the world's Top 25 by the Financial Times. It offers the opportunity for mid-career executives to develop their skills and progress their career.
Learning from a variety of internationally renowned Professors who integrate their research into lectures allows students to gain industrial knowledge, bringing the course to life.
"I wanted to take my management knowledge, and the existing qualifications that I have, to another level" says Jackie Brandon, a participant on the Warwick Executive MBA. "The course offers something for everybody, whatever stage of your career you are at. It will push you but I'm here to learn, so I'm taking every little bit out of it I possibly can."
Watch this new film to find out more about the Warwick Executive MBA and hear all about the course from a student's perspective.