The WBS Undergraduate Journey
10 February 2014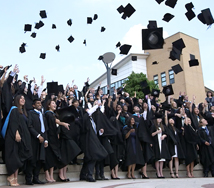 From Freshers Week to Graduation to lectures and nights out, we have captured all the key moments in our undergraduate students lives in this new film.
Meet Joshua Farmer as we follow his experiences during Fresher's week before the hard work starts and catch up with fourth year International Business student Sabine Chassagne as she reveals why she chose to study at WBS. "I left France to study because I had heard myths of the student life in England! I really don't think I could have picked a better University than Warwick," says Sabine.
Also meet Amrit Mahbubani, an Accounting and Finance student, on the day of his graduation ceremony. Amrit says: "My parents didn't go to University so I am the first one to graduate in my immediate family. Going up on stage and being presented with my certificate was the proudest three seconds of my life!"
Watch this new film to meet our students as they reveal what it is like to study an undergraduate degree at Warwick Business School.