This MBA landed his dream job in the countryside
28 November 2018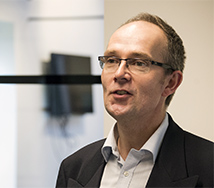 MBA Mark Leddy heads up firm's move to picturesque Cotswolds
The qualified vet was told he was mad to give up job to do MBA
Mark is now leading the UK expansion of a French company
The new role sees him use every aspect of his MBA knowledge
When Mark Leddy walked into his first MBA class and found he was the oldest at 40 he wondered if he had done the right thing.
The qualified vet had left a well-paid job as National Marketing Manager at veterinary pharmaceutical company Vetoquinol; he had won awards, he had private healthcare and was driving a brand new BMW five series.
His work colleagues told him he was mad or at best "brave" to give up his comfortable lifestyle to do a full-time MBA and live off his wife's wages for a year instead.
But six years later Mark is talking from his office, a converted barn in the Cotswolds, living his dream job and his only regret is that he "should have done the MBA sooner".
"I am now UK Manager for TVM, a French veterinary pharmaceutical, who decided to internationalise and I am setting up its UK company," says Mark.
"I have to say it is the best job I have had by any measure, in terms of using a lot of different skills, in terms of making a difference and in terms of my lifestyle and being in some sort of control.
"My goals in doing the MBA were to gain a general management position, while being financially secure and have a fun job – this does all that.
"This is a great challenge for me. My job is not only to invest in new people and get products launched, but to find the company a new UK base. TVM bought Forum Animal Health and so we have rebranded it to TVM UK and moved it from Redhill in London to the Cotswolds.
"We are into nature and animals so looked for a rural, eco-friendly and pet-friendly headquarters. We found this old dairy farm in Kirtlington that has been converted into offices - its perfect and we can bring our pets to work."
Mark started as a vet, but after six years moved to the commercial side of the sector with French multinational Vetoquinol. Starting as a technical advisor on its products he moved into marketing, graduating to National Marketing Manager for its £20 million UK portfolio.
He wanted to develop his all-round managerial and leadership skills and was exploring an Executive MBA with his boss, who already had an MBA, encouraging him.
"Then my daughter, Tara, our first child, was born and life was a bit crazy," says Mark. "Then my boss left and his replacement was not as keen on me doing an MBA.
"Even though I knew I would have to fund it myself now, I was still desperate to do an MBA and it was really my wife who encouraged me to just do it. She was very supportive and it was a lot of sacrifice on her part. I did my GMAT with two weeks to spare and handed my notice in just 30 days before the MBA started."
Mark, who graduated with a distinction and was named student of the year, believes the MBA has been invaluable.
After taking up a role with CVS, one of the UK's biggest corporate veterinary chains managing 54 people and then as regional director for Australian veterinary pharmaceutical firm Jurox, Mark used the networking skills he learnt on the MBA to find his next position.
"I agreed to meet another old contact, the general manager of TVM," says Mark. "His first sentence was 'we have bought Forum Animal Health' and his second was 'we want you to run it'.
"As a general manager I have used the full MBA toolkit - how to create a good team, finance, operations management, strategy etc - it has all been used along the way.
"Also, by having that broad knowledge, it has allowed me to have an understanding of the other roles. I might not be an expert in sales, R&D, HR or finance, but I know what they ought to look like, which has been invaluable in setting up what is effectively a new company.
"I am a true generalist now - I have even done some of the decorating in the new offices, so I will make sure my student of the year award and MBA go on my office wall."