Thousands celebrate their graduation at Warwick
19 July 2017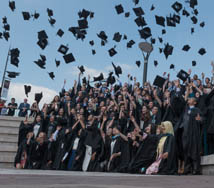 WBS students celebrate graduation at summer 2017 ceremony
Thousands set to receive their degrees in front of family and friends
More than 70 nations represent WBS at the ceremony
This year's oldest graduate donning the robes is 59
Thousands of Warwick Business School students from more than 70 countries have been celebrating their graduation at this year's summer ceremony.
In total 1,060 students are collecting their hard-earned certificates this week in front of family and friends at Butterworth Hall in the Warwick Arts Centre in what is the 50th anniversary year for WBS.
This year 76 nationalities are representing WBS at the ceremony, with the youngest graduate throwing their hat in air being 20 and the oldest 59.
After three, or even four years, of lectures and late nights revising and finishing essays our final year undergraduates are donning their ceremonial gowns and will be feeling rightfully proud of themselves.
Meanwhile, 394 postgraduate students and 22 PhD graduates will be walking on to the stage to shake hands with University of Warwick Vice-Chancellor Stuart Croft and WBS Dean Andy Lockett.
After each ceremony students had the chance to attend a celebration reception organised by WBS where they could catch up with friends, academics and celebrate their special day in style.
Professor Andy Lockett, Dean of WBS, said: "Many congratulations to all the graduates at the 2017 summer graduation ceremony, you have worked hard to reach this stage. It is a particularly special year for you to be graduating as WBS celebrates its 50th Anniversary.
"While your time studying at WBS may be coming to an end, we want to maintain a lifelong relationship with you and we are delighted to welcome you into the WBS global alumni community.
"We trust that your time at WBS will help you throughout your careers, and will be the beginning of a bright future for you.
"Congratulations once again, and we wish you all the best in your future endeavours."
Tweet your pictures from the day using #wbsgrad and we will put them on our feed below.