Three questions to ask when safeguarding your career
26 February 2016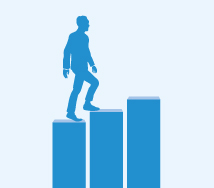 WBS Careers Manager Fay Watkin shares three questions to ask yourself that may help safeguard your career tomorrow.
At the beginning of the New Year LinkedIn released the '25 hottest skills of 2015' on their official blog (a compilation based on annual hiring and recruiting activity), sparking even the most self-assured of us to take a look and see how well we match up.
So, if you can't boast all 25 skills are your future career prospects doomed? Well, not quite. However, the list does provide a poignant point to reflect, prompting the question of how can you keep a competitive edge in the workplace and safeguard your future career prospects? Ask yourself these three questions to find out.
If you were applying for your job again would you get it?
Inevitably businesses have to change and evolve in response to external factors and developments, generating a constant need for their workforce to keep up, or risk the business getting left behind.
Therefore what is expected of a job role year on year changes, and a good way to keep competitive is to re-match yourself against your original job specification (or updated version), taking into account the current industry climate and any recent developments.
Have you been able to continuously develop within your role? If so, then you should already be on par with new talent coming in, but if not it's time to take action fast!
Looking objectively at yourself can be difficult, but employing a framework, such as a SWOT analysis (Strengths, Weaknesses, Opportunities, Threats), in conjunction with acknowledging new industry demands, can really help you take a step back and identify the concrete gaps in your skillset.
Where do you want to be in three years' time?
Knowing where you want to be in the future is useful but poses an immediate question - what's stopping you getting there now?
If you haven't taken time to identify this then there's no time like the present. Yes, granted in three years' time you should be more experienced and so you can assume you will be ripe for promotion, but in reality this alone may not be enough.
Improve your chances by taking active steps to upskill. A good starting point is to regularly review job adverts for the positions you aspire to, auditing yourself against the person specifications so that you can identify any tangible gaps.
This will provide real goals to start working towards, making your aspirations a lot more attainable. To help you on your way don't forget about the host of useful career resources available on my.wbs, with bespoke content designed for both full-time students and alumni.
You can also book an appointment to discuss your plan with a member of the WBS CareersPlus team, by emailing alumnicareers@wbs.ac.uk. With some determination and planning your three-year goal may even be achievable sooner than you think.
What is the next big thing in your industry?
Technology is underpinning the speed in which organisations innovate and with this new world of advancement comes a whole new language of big data and virtualisation, and the list goes on.
Regardless of whether your company has embraced or retreated, if this is affecting your industry as a whole then you need to know about it - or risk your shelf life being considerably shortened.
Technology is an obvious starting point when talking about key developments, but be equally aware of what else is going on, and be proactive in identifying suitable opportunities to upskill.
Keeping current, whether through an industry professional body, personal networks or a formal training course, can be an instrumental way to grow your career options.
Why not try utilising the wider WBS community by engaging with one of our many Professional Networks, including a group dedicated solely to technology.
Typically these offer members a variety of opportunities to engage, which have previously included the option to attend lectures, webinars and business networking.
Lastly, if you really can't foresee opportunities to implement your new found knowledge and skills in your existing role perhaps it's time to move on, while you still can!