Training the brightest minds to combat climate change
01 August 2013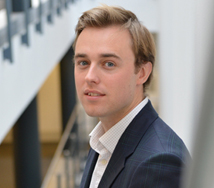 If global warming is left unchecked in the next century most of London and New York will potentially be under the sea, rivers all over the world could dry up, while drought, extreme heat waves and floods could kill millions and inspire wars.
Just how the world tackles this huge problem will take a societal revolution on the scale of the industrial revolution.
Warwick Business School (WBS) will this week be attempting to inspire some of the world's brightest young minds to confront the huge issue of climate change.
Climate Knowledge & Innovation Community (Climate-KIC) is Europe's largest public-private innovation partnership and was set up by the European Union to provide the people, products and leadership to meet the challenge of global climate change.
Every year it sends students from all over the world on 'theJourney' hoping to find the entrepreneurs and start-up businesses needed to create a new sustainable world economy.
Students stay at top universities for five weeks, soaking up the latest research from climate scientists and business thinking before pitching their business plans to industry bosses in London. The winners will be put into Climate-KIC's Greenhouse, which provides facilities and backing for entrepreneurs and start-ups tackling climate change.
"The most effective method of knowledge transfer, dissemination and amplification is via trained brains," says Climate-KIC CEO Professor Mary Ritter. "Education is therefore a key activity for Climate-KIC. Climate-KIC's overarching mission for its education pillar is to create a generation of climate innovators and entrepreneurs, and for them to create a network of change agents throughout Europe."
For the first time Climate-KIC is coming to Warwick Business School where 34 postgraduate students will be able to draw on the faculty's outstanding knowledge and expertise in the areas of entrepreneurship, behavioural science, energy and creativity.
For example, they will take in lectures from WBS' head of the Global Energy Group David Elmes on the challenges facing the global energy industry and Ed Gardiner, who runs the Behavioural Design Lab, on 'Entrepreneurship and Behavioural Science'. While Nigel Sykes will deliver a talk on 'Entrepreneurial Teams and Journeys', and Professor Jonothan Neelands and Rachel Dickinson will open the students' minds with an interactive 'Roles, Teamwork and Creativity workshop'.
Fred Dahlmann, Assistant Professor of Global Energy, who is co-organising the two weeks at WBS, said: "It is great to be involved with Climate-KIC on tackling such a hugely important but very complex issue. If we are to meet the world's energy needs while reducing our carbon footprint we need to inspire the next generation of innovators and entrepreneurs to tackle this issue.
"Rising temperatures and depleting resources, coupled with increasing demand for energy presents a huge global problem and Climate-KIC's work to educate and provide the people and talent to address these issues is hugely important.
"Warwick Business School believes in entrepreneurship and creativity, in doing things differently, and that is why we have been invited to take part in 'theJourney'.
"At Warwick we have some of best academics in Europe in entrepreneurship and the biggest Behavioural Science Group on the continent. Along with our world-class Global Energy Group we hope to give these passionate and committed students the tools to literally change the world for the better."
The Climate-KIC students arrive at the University of Warwick on Monday August 5 for an intensive two-week course.
As well as lectures from WBS academics they will also receive talks from Dr Paul Leinster, Chief Executive of The Environment Agency, Keith Budden, Strategic Partnership Manager at E.ON UK, and visit a waste disposal plant and Valefresco, an innovative food company investing in sustainable produce.
Dr Ben Wood, of WMG (Warwick Manufacturing Group), will show students the world's first F3 racing car to feature hemp composite bodywork, tyres containing potato starch, a carrot fibre composite steering wheel and a biodiesel-fuelled engine.
While Andrea Graham and Ceris Jones, from the National Farmers Union, will reveal how UK farmers are addressing the challenges of meeting the demands of the country's shoppers and the students will discover the latest research in solar panels from the University of Warwick's Dr Stefan Schumann and Professor Tim Jones.
The students will then move on for two weeks at Technische Universität in Berlin before going to Imperial College in London to pitch their business plans in groups to a jury of industry experts.