Travel Award winner helps Romanian street children
07 December 2015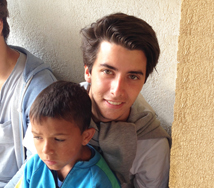 WBS undergraduate Nicolas Chayenko assisted street children in Romania
He aided in class and playing games, as well as helping fix the centre roof
WBS Travel Award helped fund Nicolas's volunteer project in Romania
Annual award has helped worthwhile winners travel to Brazil, India and Togo
Ushered into a hand built shelter, located just outside an abandoned shell of a stadium, to be greeted by an acrid aroma, Nicolas Chayenko has his first taste of the conditions many young Romanians and their families endure on a daily basis.
For him, seeing five people crammed into a tiny one room 'house' with no water or electricity and a tatty roof, was a truly shocking sight.
It was Nicolas's job to gather families, children, men and women from the streets of Satu Mare, a city of 100,000 in North West Romania near both the Hungarian and Ukrainian border, and take them to a charity centre.
As well as the shocking conditions Nicolas also had to contend with being spat at by some of the homeless youngsters and sometimes lashed out at. It was disconcerting at first, as Nicolas was there to help, but he quickly learned about the turbulent history of the children, many of whom suffered a violent upbringing at the hands of drug or alcohol dependent parents.
"We worked in a social centre, where we were supposed to contribute to the social integration of hundreds of teenagers," says Nicolas. "We tried to rescue disadvantaged families from the street who endured incessant poverty, or violence, or were addicted to drugs.
"Many of the children were mistreated by violent parents who suffered from drug addiction or alcoholism and therefore the children acted out in a similar way – so we then realised why they acted out at us.
"Because most of them were younger they had a lot of respect for us even if they were initially acting out or trying to show off, they knew we were there for their happiness.
"It makes me happy to think many acted differently after our visit, but some still acted the same and it is sad to see the effects of their mistreatment at the hands of their parents"
In total, more than 45 children lived near the abandoned stadium. Sick and in bad health, many only had support from Romanian charity Asociatia Stea, a Romanian NGO.
Romania is the poorest country in the European Union and it is estimated 24 per cent of its population are facing social exclusion due to their class, ethnicity or family size. The dictatorship of Nicolae Ceausescu between 1967 and 1989 and its communist roots are something the country is still recovering from to this day.
With no official data collection strategy in place for homelessness in Romania, figures on the number of homeless children vary, with some suggesting there are as many as 100,000 children living on the streets.
"This volunteer work has been an overwhelming experience revealing the existence of injustices between the various social classes of the world," says Nicolas, an undergraduate at Warwick Business School studying BSc Information Systems Management and Innovation. "Helping others has developed my own character and helped me appreciate how lucky we are."
For many students the summer holiday provides an opportunity to catch up with friends and family, or take some time to relax and recharge their batteries, but Nicolas wanted to do something different. He pitched his idea of going to help street children in Romania to the judges of this year's WBS Travel Awards. They were impressed and awarded him £500 to go towards his travel and living costs.
He says: "There are so many places to discover, so many exciting routes to travel, places to explore and people to meet, that we should not be content to stay quietly at home, so with these ideas in mind, myself and a group of friends embarked on this adventure."
Through a friend, Nicolas heard of the French association known as Solidarité Enfance Roumanie (SER), which is connected to Asociatia Stea. The NGO was created in 1997 with a mission to contribute to and advocate for the rights of each and every young child in Romania, so that they grew in a responsible society.
Immediately touched by the stories of deprivation and despair, Nicolas endeavoured to go to Romania to try to help.
For two weeks Nicolas and six other French students from a number of international universities offered support helping disadvantaged Romanian children, teenagers and adults.
After flying to Budapest, the group embarked on an eight-hour car journey to Satu Mare.
A typical morning for Nicolas involved playing with children in a social centre assisted by Romanian volunteers who translated for them.
"Every day after meeting some of the children at the centre and having lunch, we then had to look for others in the street in order to bring them to the centre," says Nicolas. "We gave them education, food, friends and recreation.
"Then, each afternoon, we had the responsibility of taking them to a deserted football stadium, where we would play a number of sports and games in teams. The games went on for hours as the children were so excited, so we did feel tired but kept reminding ourselves to keep going.
"Calm was a keyword for us during the trip as, at the beginning, the children were very violent with each other and even with us. But as the days passed, we succeeded in making deeper connections with them.
"When we left, many of them were crying as they were sad to see us go. But after our experience I am sure we will go back and see them again."
Nicolas and his companions did not just finish after putting in a 9-5 shift, however, after some dinner they used their free time to re-roof the covered section of the courtyard in the social centre and also help clear out its cellar.
"I strongly believe that our contribution was extremely helpful and has enabled us to mature as individuals," says Nicolas.
"This challenging experience in a foreign country has been hugely rewarding and beneficial for not just ourselves, but for the disadvantaged Romanian children as well, as we tried to provide life-changing happiness.
"I am hugely grateful for the support to have made it possible."
This is now the third year the annual Travel Awards have been handed out to worthy students, with previous winners travelling to destinations including Brazil, India and Togo.
Ashley Roberts, Assistant Dean of Widening Participation says: "Nicolas did some really great things while out in Romania and this really showcases what the Undergraduate Travel Awards are all about.
"Such experiences really help develop students' capacity to be socially responsible leaders which is a vital part of WBS's overall strategy.
"The impact on the wider community has been clear to see from his heartfelt account of his summer volunteer period and we look forward to creating additional opportunities next year with these enabling Undergraduate awards."
Read about Warwick Business School undergraduate courses here.