TSB flotation could spark banking consolidation
23 June 2014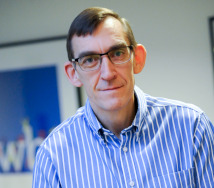 Paul Simmonds has warned there could be a fresh round of acquisitions in the banking sector after Lloyds floated the first tranche of shares in TSB.
Lloyds has sold a 38.5 per cent stake in TSB in a flotation that priced the shares at 260p and saw them rise by 10 per cent on the first day of trading, though that still put its market capitalisation about £130 million below its most recent valuation at £1.45 billion.
The Government holds a 24.9 per cent stake in Lloyds, who by selling a stake in TSB is meeting its obligation to sell the whole of the high street bank by the end of 2015 under European state aid rules as part of its bailout in 2009. It will net approximately £445 million from the sale.
TSB will be one of the largest challenger banks to compete on the high street against the UK's big four lenders, with it now being the seventh largest retail lender, holding a six per cent market share.
It joins a host of new names on the high street, which Dr Simmonds believes could see consolidation in the sector soon.
Dr Simmonds, who looks into privatisations as part of his research into UK conglomerates, said: "The Government is keen to have more competition in high street banking but is there enough room for all the new banks?
"Plus, with the new 'challenger' banks generally free of the 'baggage' of the established banks and therefore potentially attractive acquisition targets, could we see a round of consolidation, as has happened so often in the industry in the past, that will see competition stifled and domination by the big banks restored?"
Demand for shares saw Lloyds issue 10 per cent more than the intended 27.5 per cent stake, but Dr Simmonds believes the cheap prices was the attraction with investors still nervous about banks following a the financial crash and a series of scandals that have seen billions of pounds paid out in fines.
Dr Simmonds said: "The market still has reservations over the banking sector, which has yet to fully recover from the maelstrom that enveloped it in 2008, so Lloyds has had to price the TSB shares at a substantial discount of around 20 per cent to its net asset value to make the share sale a success.

"TSB will have a substantial mortgage book, estimated at £17.7 billion, which could provide increased margins and profits should, as is expected, interest rates increase in the near future.
"In addition, the bank's brand is relatively untarnished by the recent problems of the banking sector and it will market itself as being a 'back to basics' bank which will appeal to many customers frustrated by the existing big banks that dominate the high street and the headlines when they pay huge bonuses to investment bankers."
TSB does not plan to pay out a dividend until 2018 when it hopes to have raised its return on equity to 10 per cent. At the moment it is at about two per cent after making a profit after tax of £172 million, which included a £105 million tax gain, on revenues of £798 million.
But Dr Simmonds believes that could be hard to achieve as competition is fierce.
"TSB will face challenges, with lots of new competitors on the high street from Tesco Bank that now offers a current account and Marks & Spencer, with partner HSBC, which is developing its offering to other smaller banks such as Metro Bank and Virgin Money," said Dr Simmonds.

"Also RBS is subject to a similar post-government support European Commission requirement to dispose of branches which it is close to achieving by resurrecting Williams & Glyn's, a high street brand it absorbed into RBS in the 1980s.

"The disposal of TSB has taken a long time to come to fruition partly as a result of the complexities of separating TSB from Lloyds Banking Group and partly because Co-Op Bank withdrew its planned £750m purchase of 630 TSB branches last year following its well-publicised problems.
See this article featured in The Guardian and The Times.
Dr Paul Simmonds teaches Strategy Analytics on the MSc Business Analytics, Strategic Advantage and Mergers and Acquisitions on the Warwick MBA by distance learning, Warwick Executive MBA and the Warwick MBA by full-time study. He also teaches Foundations of Corporate Performance on the MSc Management.