WBS academics win National Teaching Fellowships
19 December 2016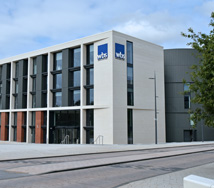 Two WBS academics win higher education's top teaching honour
The awards double the number of National Teaching Fellows at WBS
Rachel Dickinson has created pioneering CORE Practice module
Peter Corvi has championed widening participation at the university
Rachel Dickinson, Principal Teaching Fellow, and Peter Corvi, Professorial Teaching Fellow, have each received the highest accolade in higher education teaching by being awarded National Teaching Fellowships.
The two Warwick Business School academics were announced by the Higher Education Academy (HEA) as winners of what it describes as "the most prestigious individual award for excellence in teaching in higher education".
Ms Dickinson, who is part of WBS Create, has pioneered CORE Practice, a unique module across the first year of the school's undergraduate programme designed to give students a space to reflect on who they are, where they have come from and where they want to be when they graduate, enhancing their self-confidence and self-worth, while developing the soft skills to succeed in the modern business world.
Professor Corvi has championed widening participation, leading the development of the Foundation Year entry route to the undergraduate programme, which gives youngsters from disadvantaged backgrounds the opportunity to study at WBS, and the Multicultural Scholars' Programme for students from ethnic groups under-represented in UK higher education.
He also co-created with academics at Manchester and Cardiff Business Schools the Undergraduate Partnership Programme (UPP) that offers selected students the opportunity to undertake a paid placement year and gain valuable work experience.
Higher education institutions in England, Wales and Northern Ireland are each allowed to nominate up to three members of their teaching or academic support staff for these annual awards, with 55 chosen by the panel of judges each year.
Nominees have to submit a 5,000-word case, showing evidence of three criteria: individual excellence, raising the profile of excellence and developing excellence.
"It is a great honour to be awarded a National Teaching Fellowship" said Ms Dickinson, who draws on innovative arts-based methodologies such as drama and theatre in much of her teaching.
"CORE Practice is committed to supporting student transition between formal and higher education and serves as the foundation for a unique learning experience, positioning creative practice at the heart of personal and professional development. For many students, this involves an element of risk as they move out of their comfort zone.
"The module places importance on self-knowledge as students begin to develop the skills and qualities necessary to manage and lead others in an increasingly uncertain world."
Professor Corvi said: "I feel very privileged to have been nominated by the University, and I'm delighted that Rachel, Margaret Low (in Warwick Manufacturing Group) and I have each been successful. Warwick is the only institution this year to gain three National Teaching Fellows.
"Higher education transforms lives, including my own, and I am very grateful to have the opportunity to play my part in helping others, especially those from disadvantaged backgrounds, to benefit from a university education."
Ms Dickinson and Professor Corvi will each receive £5,000 to spend on teaching developments.
Professor Stephanie Marshall, HEA Chief Executive, said: "I am so pleased the HEA has the opportunity to run these awards, and to help to disseminate the best practice they reveal.
"Celebrating great teaching, whether by teams or individuals, is really important and highlights just some of the great work in the sector to improve the student experience.
"All the awards provide compelling case studies of best practice which we can share around the sector. It's also an opportunity for all of us to reflect on our own work, individually and as teams – what are we getting right, what can we learn, and what could we do better?"
Ms Dickinson and Professor Corvi's achievement means WBS now has four National Teaching Fellows with Ashley Roberts, Principal Teaching Fellow, and Jonothan Neelands, Professor of Creative Education and Associate Dean of Creativity, also winning the award.
Jacky Swan, Pro-Dean for Teaching and Learning at Warwick Business School, said: "This is a great achievement by Rachel and Peter. I know they both work incredibly hard to give students the best teaching experience possible. They have not only been highly innovative, but tremendously determined to drive such new ideas through the school.
"Striving for excellence in teaching and learning is something that WBS takes very seriously and we are always looking for new ways to deliver knowledge and inspire our students to think critically and become socially-responsible creative business leaders.
"Rachel and Peter's achievements are testament to this and are part of a wide range of high quality teaching and learning activities that we are embedding in the School to strive for excellence in everything we do."