UK's 'innovation geography' mapped for the first time
29 May 2015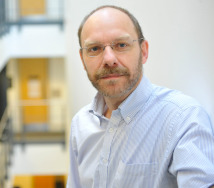 London and Manchester are way behind Oxford, Liverpool and Teesside in a 'league table' of UK areas creating new goods and services.
Liverpool has a higher proportion of firms creating new cutting-edge goods and services than London, according to a new study which turns received wisdom about the UK's 'geography of innovation' on its head.
The research shows the UK has a clear 'arc of innovation' stretching from Cambridge through the south east Midlands and along the M4 corridor to take in Oxfordshire and Gloucestershire.
More surprising beacons of innovation elsewhere include the Tees Valley, Dorset and Liverpool.
London, meanwhile, is way down the list, while Scotland, Wales and Northern Ireland show below-average levels of innovation.
The study, Benchmarking local innovation – the innovation geography of the UK, has been produced by Stephen Roper, Professor of Enterprise at WBS and Director of the Enterprise Research Centre (ERC), the UK's leading independent research institute on the drivers behind business growth and success.
ERC's analysis of six key indicators of innovation has allowed it to produce an 'innovation league table' for 45 Local Enterprise Partnership (LEP) areas in England and equivalent zones in Scotland, Wales and Northern Ireland. These indicators range from new products being brought to market, to collaboration and research and development (R&D) activity.
The findings are based on a new analysis of data from the 14,000 firms which responded to the UK Innovation Survey 2013, relating to their innovation activity over the period 2010-2012. This survey found that while nationally 45 per cent of firms reported being 'innovation active', only 18 per cent were engaged in new product innovation.
The key findings include:
Firms in Oxfordshire report the most innovation activity followed closely by Greater Cambridge and Peterborough. South East Midlands (centred on Milton Keynes) and Gloucestershire follow relatively closely. ERC academics believe this could be explained by the concentration of high-end manufacturing companies in this belt, as well as a focus on research and development (R&D), particularly in areas with major universities.
Tees Valley is the best performing of the Northern English local economic areas. This new finding runs counter to the current narrative of a 'northern powerhouse' in the North-West centred on Manchester (Greater Manchester is only ranked 20th for innovation).
London's innovation rate relative to the total number of firms there is relatively low – with the capital only making number 25 on the list. Experts believe this could be due to London's specialisms in service sectors such as law and finance, which tend to be highly regulated and therefore less innovative.
Eastern Scotland, Northern Ireland and Cumbria report the weakest overall innovation performance.
While in general innovation activity is lower in more northern and peripheral areas, there are isolated pockets of above-average innovation across the UK.
Professor Roper said firms' ability to innovate played an important role in sustaining growth and competitiveness, with economic implications for whole regions.
"For the first time, this research gives us a picture of which localities of the UK have the highest proportion of firms introducing new products and services," said Professor Roper. "The findings run counter to the dominant narrative of a country dependent on London, with innovation being much more dispersed across the country than was previously thought.
"Innovation is strongly linked to growth, exporting and productivity - all areas in which the UK economy needs to improve if we want to boost our international competitiveness.
"The significant variation between different parts of the UK suggests that some localities are succeeding in creating a more innovation-friendly environment than others.
"Policymakers and researchers need to examine the local factors that could be contributing to this so that we can create the conditions for firms to become more innovative – creating jobs and growth - in every corner of the UK."
Professor Stephen Roper teaches Innovation and Alternative Energy Technologies plus International Perspectives on Enterprise and Small Business on Wawick Business School's Undergraduate programmes.