University of Alberta win 2018 WBS Case Challenge
19 June 2018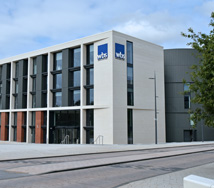 Canada's University of Alberta win 2018 WBS Case Challenge Competition
The annual healthcare challenge focused on heart problem atrial fibrillation
The condition affects around 33.5 million people across the world
E-learning platform and improved screening idea impressed judges
University of Alberta Business School claimed victory at the 2018 WBS Case Challenge Competition with their innovative proposal to tackle atrial fibrillation - a heart problem.
Under the team name Vital Consulting, the Canadian outfit beat off stiff competition from the Philippines, Spain and a host of UK institutions to win the £4,500 grand prize at the annual two-day event, hosted by Warwick Business School in partnership with GE Healthcare and Pfizer.
Atrial fibrillation (AF) is a type of irregular heartbeat. It is the most common arrhythmia (heart rhythm disorder) worldwide, and it is estimated that 33.5 million people have AF globally: 20.9 million men and 12.6 million women.
Tasked with optimising and accelerating the pathway of care for AF and AF-related strokes in the US, Alberta's solution included improving patient access to screening, empowering patients with education and the creative use of technology through e-learning. They showcased impressive research on how to make systemic cost-savings through early detection of AF and stroke prevention techniques.
Runners-up were Manchester Myocardiums from Manchester Alliance Business School, who claimed £1,200, while Circle of Life from Cranfield Business School finished third.
London Business School claimed the £1,200 prize for submitting the best poster in the first round of the competition. This segment saw teams combine their consulting skills with their creative talents and face a grilling from judges on their designs.
Judge Dr Tahir Saleem, Global Medical Director from GE Healthcare, said: "It was a fantastic competition and I was really impressed with how teams thought about the problem, how they analysed it and tackled it in their presentations.
"There was a lot of information to cover in the Case which made it more interesting and challenging and provided a great opportunity for teams to show their brilliance. I really enjoyed the experience and hope the teams got a lot out of it to apply in their future careers."
The event saw a range of insightful presentations steeped in extensive research and innovative proposals on tackling AF in their allocated part of the world. These included:
a cloud-based app on subscription with a free wearable device to constantly measure heart rate for the US population.
rolling out AF testing kiosks in all bicycle parks in the Netherlands, partnering with existing technologies and government.
taking healthcare to the people through anti-stroke stations in UK supermarkets.
ECG technology in share-bicycle handlebars with an affiliated app in Australia and New Zealand.
To help enrich their presentations, participants also attended a series of Q&A panels with leading healthcare figures. A session on innovation in AF saw questions about the lack of national screening programmes for AF, the possibilities for passive detection technologies and data protection issues in the context of GDPR.
A second panel looked at the clinician's perspective with a focus on the asymptomatic nature of AF, regulatory challenges and possible incentives for GPs.
The last panel discussed the hurdles to achieving early detection and treatment of AF particularly around scaling. Participants heard that patient acceptance of wearable solutions like watches was not universal.
Furthermore, while the front-end of solutions may seemingly possess an 'X-factor', it is critical that the back-end that makes the technology work is solid and produces reliable data.
More information about the Case Challenge Competition and the 2018 event can be found here.