VirtualSpeech app wins Sophie Silicon Valley spot
30 May 2017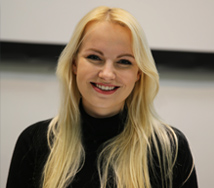 MSc International Business graduate wins place at Silicon Valley incubator
Virtual reality app built to help people become better public speakers
The app had 130,000 downloads in a year and was spotted by investors
Sophie Thompson now living the start-up dream in San Francisco
Like most people Sophie Thompson hated doing public presentations. She hated them so much that with a friend she developed a virtual reality app to help her get over her fears.
Now she is doing speeches in front of billion dollar investors in Silicon Valley on a daily basis.
From a theology degree and daydreaming in sleepy Tanworth-in-Arden to living in the world's tech capital where venture capitalists prowl the streets looking for the next Uber, Facebook or Google, Sophie is now living the Silicon Valley dream.
"It is another world out here," says the 23-year-old. "Everybody is so tech focused, everybody has a start-up. You might as well ask 'what is your start-up?' rather than the usual introductions."
Sophie founded her company, called VirtualSpeech, while studying for an MSc International Business at Warwick Business School, with the help of friend Dominic Barnard, who was working on VR at Jaguar Land Rover.
"Both of us hated public speaking," says Sophie. "Then we realised VR was a really good way of immersing yourself in public speaking and practicing. When you put on your headset it tricks your mind into thinking you are somewhere else, and you are talking in front of a real-life audience.
"I knew when I went to university I would have to do presentations and that would be a nightmare for me, and as an undergraduate I would avoid them. But going to Warwick for my masters gave me that push to do them and do something about my fear."
How does the VirtualSpeech VR app work?
The app has a host of different environments to choose, from job interview to TED talk, and provides feedback on your performance, pointing out when you hesitate and showing eye contact heat maps. You can also load up slides to run through a presentation.
And with Google cardboard selling for as little as £5 the use of VR apps on mobile phones is a rapidly growing market.
"In February 2016 we founded the company and then released it on the app stores," says Sophie. "We had 130,000 downloads in a year and were featured in the New York Times, Forbes and several tech websites. That is not a lot of downloads for a non-VR app, but VR has not reached the mass market yet so we were really pleased."
The pair's big break came when Silicon Valley investment firm Boost VC came across their app and asked them to apply for their start-up acceleration programme.
"We didn't hear from them for a couple of months and we thought they had forgotten about us," says Sophie. "But then out of the blue we had an email saying we had won a place and a couple of weeks later I quit my job at a digital marketing agency and we were flying out to Silicon Valley. It has been a real whirlwind."
How does a venture capital fund help a start-up?
Boost VC, whose team invested in digital asset exchange Coinbase that is now valued at $400 million, have invested a significant amount in VirtualSpeech, given the pair a place to live and work and plugged them into a vast network of investors.
"Part of the funds will go on hiring people," says Sophie. "With only having one coder, it is difficult to keep up with all the new platforms coming out.
"It is mainly about building business relationships, finding more funds and getting feedback from people in the industry. We had a demo day pitching to 100 investors, which was really scary, and a real life Ironman flew in - I thought only here could I watch somebody with jet engines on his arms."
The pair are already monetising the app, with a premium service and a corporate deal for businesses and universities. And Sophie believes her experience at WBS has been invaluable, helping her gain the skills to develop her own company.
"When I was accepted to Warwick I jumped out of bed, ran into my parents room to tell them and mum started crying," says Sophie. "The course is exactly what you need, and instils in yourself the belief that you can do what you really want. It gave me an all-round view of business, and different types of businesses.
"I used the strategy I learnt for the business and now I am doing more marketing. I have used the app to train myself on speaking, I am a lot better at presenting and I have grown in confidence. We are pitching and meeting people all the time – presenting and public speaking is my job now!"