Warwick Business School celebrates graduation day
18 January 2019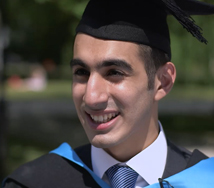 Students from a host of postgraduate programmes graduated
Brian Cox and Rashid Bhayat received honorary degrees
MBA students also graduated in today's ceremony
Dean Andy Lockett awarded certificates in Butterworth Hall
More than 700 Warwick Business School students celebrated being awarded their degrees at Friday's winter graduation ceremony.
And they were joined by the physicist Professor Brian Cox and Rashid Bhayat, the Founder and CEO of the Positive Youth Foundation, who received honorary degrees from the University of Warwick.
Andy Lockett, Dean of WBS and Professor of Strategy and Entrepreneurship, said: "The graduation ceremony is always a wonderful occasion and is the culmination of a lot of hard work for our students.
"It was great to see them with their families and friends celebrating their achievements and joining the WBS and University of Warwick alumni family. Graduation day is one of the most rewarding parts of my job, a day I look forward to.
"Every student should feel rightly proud of their achievements and I hope enjoyed a memorable day. I wish you all good luck in whatever you go on to do next, and please keep in touch – we love to hear back from our graduates about the great endeavours they are involved in."
After the ceremonies the new graduates, with family and friends, were able to enjoy a buffet reception at the Rootes building, where they had group photos taken and enjoyed catching up with classmates.
At the age of just 17 Mr Bhayat established his first social venture working with young people in one of the UK's most challenging neighbourhoods. Since then, he has worked at a local, regional and national level, designing and implementing social change programmes for young people and communities.
As well as being a trustee of the Coventry City of Culture Trust, Mr Bhayat also supports social enterprise development, public service transformation and wider social impact programmes, and regularly publicly champions raising the aspirations of young people.
Professor Cox's first career, meanwhile, was in music, collecting a number of chart hits with D:Ream, before obtaining a first class honours degree in physics from the University of Manchester and then in 1998 a PhD in High Energy Particle Physics.
He is now a member of the high energy physics group at the University of Manchester and combines his research with many TV and media appearances to popularise science.
The morning ceremony started at 11am and saw students from the following programmes graduate:
MSc Business with Financial Management
MSc Business with Accounting & Finance
The afternoon ceremony started at 3pm with students from the following courses graduating:
MSc Human Resource Management & Employment Relations
MSc Management of Information Systems & Digital Innovation