Warwick Business School flying high in the Global MBA Top 30
28 January 2013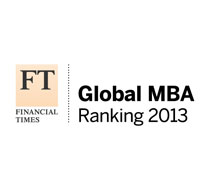 In the Financial Times flagship ranking of full-time MBA programmes, published in January, Warwick Business School has retained its place in the world's Top 30 and in Europe's Top 10, holding its place as fourth in the UK behind only London Business School and Oxbridge.
The Financial Times produces the ranking from data gathered through two surveys – one on the school, and one on its MBAs who graduated three years ago - which measure criteria such as career progress, international diversity, and research excellence.
WBS has scored spectacularly well in these criteria:
A rise of 30 places to seventh in the world for graduates who achieved their aims through their MBA.
Ranked third in the world for return on investment, calculated by comparing salary earned today with the combined cost of MBA fees and lost earnings while studying.
A rise of 38 places in the 'placement success' rank, which measures the effectiveness of a school's careers services.
Ranked 15th in the world, a rise of five places, for international mobility of MBA graduates before and after their MBA.
Dean of WBS, Professor Mark Taylor, said: "I am absolutely delighted that WBS has achieved this high ranking again this year, consolidating the school's excellent performance last year. Although rankings can only give a partial measure of how well we are performing, the fact that WBS is consistently rising and staying high is a sure indication we are doing the right thing for our students and alumni."
He added: "Only 11 UK business schools feature in this year's Global MBA ranking, compared with 14 schools last year. In the current harsh economic conditions, our high ranking this year makes our own and our graduates' achievements outstanding."
Further information
The full ranking table and related editorial on the Financial Times Global MBA 2013 can be found here.
Only 100 business schools are ranked, and all participating schools must be accredited. WBS has held the 'triple crown' of accreditation since 2000, when it became the first UK business school to achieve this accolade.
The Warwick MBA is by intention and design a generic business degree for would-be leaders and managers who already have managerial experience. It can be taken by full-time study, by distance learning, or with attendance at one-week modules on campus, or a mix of all three. All successful students graduate with a Warwick MBA; there is no differentiation made between study modes. The Warwick Global Energy MBA is designed for managers working in or with the energy sector.