Warwick Business School is to sponsor this year's TEDxWarwick
07 February 2013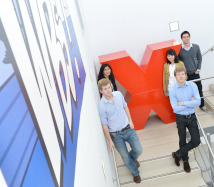 Warwick Business School is delighted to announce its sponsorship of the hugely popular ideas conference TEDxWarwick.
TEDxWarwick was the first licensed TEDx-event in Europe when it started in 2009, a spin off from the global TED conferences which see speakers given 18 minutes to share "ideas worth spreading".
There are now 6,000 licensed TEDx-events worldwide and TEDxWarwick has grown to such an extent that 1,200 people are expected to fill the Butterworth Hall at the Warwick Arts Centre for the non-profit event on Saturday March 9.
The theme this year is 'Building Bridges' and 17 speakers and two performers will be on show. These include Columbia University Professor Dickson Despommier, pioneer of vertical farms, Bob Bishop, founder of the International Centre for Earth Simulation, talking about the future direction of the planet and Sir Philip Craven MBE, President of the International Paralympic Committee, talking about the power of sport as a unifying concept.
Percussionist Molly Lopresti-Richards, BBC Young Musician of the Year Finalist, will be performing live and there are more acts to be added to the bill.
Dean of Warwick Business School, Professor Mark Taylor, said: "We are a leading business school with innovation and creativity at the heart of it, so it is entirely appropriate that we should be sponsoring TEDxWarwick where new and exciting ideas are shared.
"TEDxWarwick has been a great success and continues to grow. We are delighted to be part of this year's event and I am sure the speakers and performers that have been invited will provide a fascinating day."
TEDxWarwick has a team of 26 students putting the widely-popular conference together. This year smaller events known as TEDx Salons have been hosted in the build-up. Another first for TEDxWarwick this year is the opening of speaker applications to the general public, giving those with an idea worth spreading a chance to take to the stage.
Warwick Business School will be a principal partner for TEDxWarwick alongside Tata Technologies and Credit Suisse and the organisers hope the tie-up will be the start of a fruitful relationship.
Simon Cox, TEDxWarwick Deputy Director of External Relations, said: "Every year TEDxWarwick has continued to grow and develop to become one of the most eagerly-anticipated conferences on campus.
"We are incredibly excited to have had WBS confirm their support for the event, enabling this year's conference to continue to set the national-benchmark for quality in TEDx events.
"With this year's conference themed 'Building Bridges', TEDxWarwick will be full of talks and performances that we hope will be hugely interesting for all those involved in WBS. We are looking forward to working closely with WBS over the coming months, and hope that our relationship will continue to grow over the coming years."
For more information on TEDxWarwick visit www.tedxwarwick.com.