Warwick MBA students visit Beijing
27 May 2014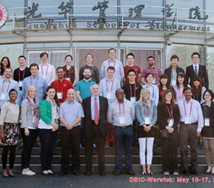 Warwick MBA students have attended the inaugural Doing Business in China module at Guanghua School of Management (GSM) in Beijing.

Warwick Business School has collaborated with Guanghua School of Management in Beijing to offer MBA students a new module.

Called Doing Business in China, participants learn how to operate successfully in the fastest growing economy in the world at one of Asia's top business schools.
This 'immersion programme' is one of many offered on the Warwick MBA to enable participants to learn more about the business practices of a particular country, while also being immersed in its culture.
The partnership saw Guanghua School of Management send its MBA students to Warwick Business School as part of a Doing Business in the UK and Europe module last July.
Guanghua School of Management at Peking University is widely recognised as one of the top business schools in China, so makes a fitting partner for WBS.
Professor Mark Taylor, Dean of WBS, said: "This immersion programme is just part of our burgeoning relationship with Guanghua.
"The ability to share the insights of GSM's distinguished professors and practitioners with our students is just one of the ways we produce world-class leaders who think on a global scale."
The photo shows the class of Warwick MBA students visiting the Beijing Hyundai factory as part of the Doing Business in China course.
Kan Ni, a Warwick MBA by Distance Learning student from Birmingham, said: "I chose this course to learn the secrets of China's phenomenal growth – all our lives are affected by this rising dragon.
"The excellent teaching and facilities at GSM, coupled with a diverse group of Warwick MBA students, enabled deep debate on fundamental aspects of Chinese politics, economy and consumers. Additionally, being in China allowed us to both observe and partake in local activities such as karaoke."
For more information about Warwick MBA courses, please click here.