Warwick MBA tops global ranking for sustainability
09 November 2018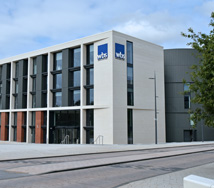 MBA programme scores 80 per cent or more in all four categories
WBS climbs from second to take top spot in the global ranking
Clean capitalism magazine Corporate Knights reveals 15th annual ranking
News follows school's online MBA being named best in the world
Warwick Business School's MBA programme has been ranked number one in the world for sustainability and advancing environmental, social and economic goals.
Canadian business magazine Corporate Knights, which is distributed with The Washington Post and The Globe and Mail and is dedicated to 'clean capitalism', has named WBS top of its 2018 Better World MBA Ranking, rising from joint second last year.
It comes after the school's Distance learning MBA was ranked number one in the world by the Financial Times and its Full-time MBA was rated the best in the UK and 18th globally by The Economist.
Andy Lockett, Professor of Strategy and Entrepreneurship and Dean of WBS, said: "The world is facing huge, complex problems such as climate change, a growing population that the UN predicts will reach nine billion by 2050 and water scarcity confronting many regions in the world.
"Business has a responsibility to meet these challenges. Indeed, it is only through entrepreneurial activity and innovation that society will be able to tackle these issues.
"We want our MBA students to understand that responsibility and how these complex issues combined with the emerging fourth industrial revolution will create not just threats but opportunities as well.
"We are proud that our research in areas around sustainability and our emphasis on business ethics has been recognised."
In the ranking's 15th year, WBS scored 80 per cent or more in all four categories, which were:
Core modules that integrate relevant sustainable development themes
Research institutes and centres that are fully or substantially dedicated to areas of sustainable development
Faculty research published over the last three years on sustainable development
Faculty gender and racial diversity
On the Full-time MBA students have the opportunity to visit Vancouver and learn about sustainable business in what is generally regarded the 'greenist city' in the world.
They can also learn more on the Business and Sustainability module, which introduces the UN's Sustainable Development Goals, plus modules like the Economics of Wellbeing, Human Resource Management and Corporate Responsibility and explore different cultures on international modules in China, India, Mexico or Brazil.
John Colley, Associate Dean of the MBA and one of 10 Professors of Practice at WBS bringing vast industry experience to the classroom, added: "This is another strong showing for the school in a global ranking and comes on the back of our Executive MBA being ranked in the world's top 20 by the Financial Times.
"We have been experiencing increased demand for our MBA course. Indeed, for the first time we are double-streaming the Full-time MBA this academic year.
"Our investment in a strong careers service to help students achieve their career goals combined with world-class faculty and research is seeing us gain a reputation for high quality education."
To see full details of the 2018 Better World MBA ranking click here.