Watch out for WBS at Birmingham Airport
19 June 2013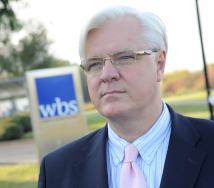 A new design for an air bridge at Birmingham Airport has been commissioned by Warwick Business School to help build links with the international community.

Passengers from all over the world will see the impressive blue and white design on the exterior of the bridge which features the WBS leopard logo. The design on the interior of the tunnel reflects the front cover of WBS's magazine Core.

The aim of advertising on the bridge is to provide passengers with an essence of the business school as they arrive or depart this summer.

With nearly 10 million passengers a year passing through Birmingham Airport, advertising in prominent areas is sought after amongst large companies such as Jaguar Land Rover, MG Motor UK, RSC, Thomson and now WBS.

Professor Mark Taylor, Dean of Warwick Business School said "Birmingham Airport has a special resonance with many of the University community who regularly travel out of the airport to worldwide destinations.

"We are very pleased to be able to showcase WBS to a wider global audience and reach thousands of passengers every day."

If you see the air bridge in action when you are jetting off, you can share your photos with us via Twitter or Facebook.