WBS Board member praised for OBE in New Year's Honours
07 January 2013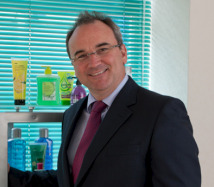 Warwick Business School Dean Mark Taylor has congratulated WBS Advisory Board member and entrepreneur Denys Shortt on being awarded an OBE in the New Year's honours list.
Shortt gained the honour for services to the economy, having set up his Stratford-upon-Avon business DCS Europe plc in 1994, and turning it into the UK's leading distributor of health, beauty and household brands with sales of £150million and 250 employees.
He has also set up two technology companies, Enable Software and Deal Track Limited, and created the made-in-England health and beauty range Enliven, which is exported to 70 countries.
As Chair of the Coventry & Warwickshire Local Enterprise Partnership, Denys Shortt has also played an important role in championing the local and national economy, organising and chairing the first National LEP Conference in Coventry with Prime Minister David Cameron and Deputy Prime Minister Nick Clegg. He recently invested more than £4m in a new toiletries factory in Stratford-upon-Avon with the aim to help revive British manufacturing.
As a member of the Warwick Business School Board, Denys Shortt has also played an important role in overseeing the school's rise up the rankings: it climbed five places to be placed 13th in Europe in the Financial Times' business school rankings in December, the biggest rise by any UK business school, making it third in the UK.
Professor Taylor said: "Denys's drive and enthusiasm has really helped WBS, the local economy and Britain in general. He is very supportive of WBS and the success of his business is an inspiration for our students. As well as being a member of the WBS Advisory Board, Denys has worked closely with Warwick MBA students in the area of entrepreneurship—in fact, some of our MBA students have written dissertations using Denys as a perfect example of a successful entrepreneur. His keenness to share what he has learned in business and help others is the mark of a true trail blazer and entrepreneur, one who leaves a lasting impact on the local community and the country. The honour is fully deserved."
A former international hockey player, Shortt has also formed Stratford Vision, a group focussed on improving the local economy and creating a jobs and growth plan for Shakespeare's home town for the next twenty years. He also supports the Shakespeare Hospice, Orchestra of the Swan and the Pride of Stratford Awards as well as being director and main sponsor of Stratford Town Football Club.
Denys Shortt said: "I am absolutely delighted and proud to receive this honour. Britain is a great place to build a business and I am delighted that entrepreneurship is recognised within the Queen's New Year's Honours list."