WBS Case Challenge reaches new heights at The Shard!
03 March 2015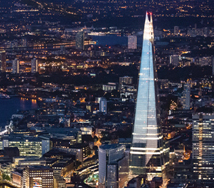 In its third year, Warwick Business School's case challenge is reaching for the sky, offering international MBA teams the opportunity to showcase their talents at The Shard in London.
WBS London is on the 17th floor of London's iconic tallest building and will be used for the first time to provide the stage on which the student teams will compete.
The winners will win £4,200 and teams from across Europe will endeavour to succeed SAID Business School to become the 2015 WBS Case Challenge Champions.
WBS Dean Mark Taylor said: "The University of Warwick has a great history of being entrepreneurial and a world innovator, and moving the competition to The Shard continues that spirit of enterprise and ambition to do things differently."
Healthcare remains one of the highest industry recruiters for MBAs and provides the unique backdrop to the WBS Case Challenge.
Healthcare continues to face major challenges in the UK and together with primary sponsors, GE Healthcare and GE Healthcare Finnamore, this year's competition will be looking into issues facing hospital accident and emergency departments.
The challenge will be researched and written by expert case writers Stocker Partnership Ltd and the judging panel will be made up of managers from GE plus other industry experts.
MBA student Richard Inman, chair of this year's event, said: "This year's challenge focuses on a pressing healthcare issue that requires innovative, creative and practical solutions. It's a tall order; which is why we're inviting the sharpest minds from top business schools to compete.
"The aim is to provide the highest test for students to engage with the operational and economic challenges in an environment where success can literally mean the difference between life and death."
The impact of globalisation on talent acquisition places a focus on team diversity for this year's event. Teams are encouraged to look create a mix of nationalities; professional backgrounds and postgraduate disciplines when putting their teams together.
Provision has therefore been made for each team of six to include up to three postgraduate students, studying disciplines outside of an established MBA programme.
The competition is open to eight teams and the deadline for entry applications is March 6 with the case challenge being held on April 24 and 25 at The Shard, London.
For more information visit the case competition website here: https://www2.warwick.ac.uk/fac/soc/wbs/casechallenge/about/
To register your interest or for further queries, please contact: casechallenge@mail.wbs.ac.uk