WBS course ranked second in the UK by The Guardian
24 May 2016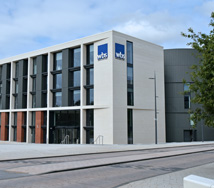 WBS ranked second in the UK for accounting and finance
The Guardian rates WBS fourth for business studies
90 per sent of students satisfied with their undergraduate course
Graduates join accounting's Big Four and firms like Nestle, Barclays and UBS
Warwick Business School's BSc Accounting & Finance undergraduate course has been ranked second in the UK by The Guardian University Guide 2017.
The national newspaper also rated WBS fourth for business studies, which was based on four of its undergraduate courses; BSc International Management, BSc Management, BSc International Business and BSc Information Systems Management & Innovation.
The Guardian's league tables rank universities according to: spending per student; the student/staff ratio; graduate career prospects; what grades applicants need to get a place; a value-added score that compares students' entry qualifications with their final degree results; and how satisfied final-year students are with their courses, based on results from the annual National Student Survey (NSS).
It comes after the school's Full-time MBA was ranked first in the UK and 18th in the world by The Economist, while the Financial Times rated its Distance learning MBA second in the world and first in the UK and its MSc Finance course second in the UK for pure finance courses.
Mark Taylor, Dean of Warwick Business School, said: "This ranking demonstrates the time and effort our staff put into their teaching and the commitment they have put in to give the students the best quality resources and support.
"The financial commitment for students these days is a big undertaking and we are continually striving to make sure students gain full value with a top quality education that will set them up for a tremendous career.
"Our WBS Careers Plus department works tirelessly to help students find the role they are looking for when they graduate, providing advice, guidance and opportunities to meet prospective employees plus services to help with writing CVs and interview technique.
"Part of our mission is to produce world-class, socially responsible, creative leaders and managers who think on a global scale. It is satisfying to see our students are finding our undergraduate programmes are meeting their needs."
With 90 per cent of BSc Accounting & Finance students at WBS satisfied with the course, according to The Guardian's rankings, many move into roles within the Big Four accountancy firms and key financial organisations like Credit Suisse, Bank of America, and UBS.
WBS has recently launched an Assurance Scholarship scheme with professional services firm EY, which offers students the opportunity to receive £15,000 during the degree plus a year-long placement at an EY office, which could turn into an offer for a full-time job. There is also the chance to take a 12-month work placement in collaboration with the Institute of Chartered Accountants in England and Wales (ICAEW).
The Guardian found that 87.4 per cent of students doing business, management and marketing at WBS were satisfied with their course, with 84 per cent of them gaining employment six months after graduating, most moving into management consulting, financial service activities, and accounting within large, global commercial firms like Microsoft, Barclays, Allianz UK, Heinz, Nestle, JP Morgan and Rolls Royce.
Louise Gracia, Associate Dean for the Undergraduate Programme, said: "We have worked hard to ensure our students have everything they need to not only succeed on the course, but also in the career they choose to pursue, so it is very gratifying to see our courses so highly rated by students.
"We are very innovative in our approaches to learning and teaching, with WBS Create helping to inject new and creative ways of learning that draw on arts-based teaching embedded alongside more traditional methods. It is pleasing to see students appreciating these learning innovations."
The University of Warwick was ranked ninth overall in the UK by The Guardian, once again placing Warwick as the top University in the West Midlands.
Click here to see the full The Guardian University Guide 2017 rankings.