WBS courses in world's top 30 in QS subject ranking
08 March 2017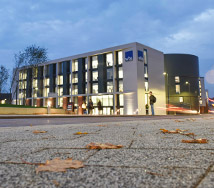 School's business and management courses rated in the world's top 30
QS rankings place accounting and finance programmes 32nd in the world
Combination of world-class research and creative teaching paying off
UK second only to US for quality of its university courses
Warwick Business School has been ranked in the world's top 30 for its business and management courses by the QS World University Rankings by Subject.
As well as being ranked 26th in the world by higher and business education analysts QS (Quacquarelli Symonds), which rated both undergraduate and postgraduate courses, WBS was fifth in the UK and 10th in Europe.
WBS also rose to 32nd in the world for accounting and finance courses, and sixth in the UK - one of just eight UK institutions in the world's top 50. The ranking also put the Business School's accounting and finance courses as sixth in Europe.
These rankings involve a detailed analysis of over 4,000 universities before a final ranking of more than a 1,000 institutes was finally established.
Dean Professor Andy Lockett said: "This ranking confirms the global reputation of WBS and is a credit to the hard work of our staff and students.
"We have worked hard to bring the best academics from around the world to lead research and teach our students and the leap from the accounting and finance courses into the top 40 is testament to the excellent teaching offered on these programmes. Similarly, our business and management courses sitting in the top 30 in the world reflects the quality of the courses and teaching offered at both undergraduate and postgraduate level.
"These rankings also show WBS students are receiving a world-class education that will give them a great start in their chosen career. By becoming part of our alumni they can also utilise the opportunity to use the network and the school's careers support to be lifelong learners."
WBS runs BSc Management, BSc International Management and BSc International Business for undergraduates, while at postgraduate level it delivers a suite of four MSc Business courses focusing on different aspects from consulting to marketing plus MSc International Business, MSc Business Analytics and MSc Management. All of which were assessed for this latest ranking.
QS also assessed the school's BSc Accounting & Finance, MSc Accounting & Finance, MSc Finance, MSc Finance & Economics and MSc Financial Mathematics courses.
"We strive to produce outstanding, socially responsible and creative business managers and leaders through world-class teaching. I am delighted to see this is being reflected in this ranking with programmes that will enable our students to fulfil their ambitions," added Professor Lockett.
The QS rankings highlight the world's top universities in 46 subjects, based on academic reputation, employer reputation and research impact. For this seventh edition of the QS World University Rankings by Subject, 4,438 universities were evaluated with 1117 institutions ranked, while more than 127 million citations were analysed and the provision of more than 18,900 programmes verified.
Click here to see the full QS rankings.
Click here to see details of other subjects at the University of Warwick which are also highly ranked by QS.