WBS dominate line-up for SWIFT Fintech competition
19 April 2016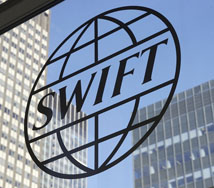 Four of the seven finalists in the prestigious SWIFT Challenge from WBS
Teams have to pitch a solution to a real world problem for remittance senders
Winners receive £15,000 and will pitch to world's top finance companies
Innovation a key ingredient in the emerging Fintech sector
Four teams from Warwick Business School have reached the final of the inaugural SWIFT Institute Challenge at the SWIFT Business Forum London with the chance of winning £15,000.
With just seven teams in the final, WBS will be competing against students from King's College London, London School of Economics and Queen Mary University.
All 21 WBS students are studying the MSc Information Systems Management & Innovation course and the winners will present their business idea in front of 8,000 senior banking executives at SWIFT's annual conference in Geneva, Switzerland.
The WBS teams are HADU (Fiza Hussain, Sneha Sunkara, Mohammed Dankwambo, Yunjing Li, Yat Hung To, Qotrun Nada Haeron), Bluebird (Fatima Ibrahimova, Alaa Alsairafi, Yiwen Zhang, Sherry Shen, Michael Ramer), Transfree (Yaqi Yang, Feng Xing, Shanshan Wu, Yao Li, Li Wang) and Local Pay (Xinyue Yao, Xuewen Yao, Haolin Wang, Bo Han, Yu Jing).
SWIFT - the global network that enables financial institutions to send and receive information about financial transactions - asked students to address a real world challenge being faced by remittance senders, receivers and their banks operating in the UK market, and was open to any UK university, or centre of learning, with an interest in banking.
Each student team was required to identify a solution that would enable a bank's customer to send money cross-border, via their own bank, to an individual in a country where there is little or no banking infrastructure.
Markos Zachariadis, Assistant Professor of Information Systems who co-authored The Society for Worldwide Interbank Financial Telecommunication (SWIFT): Cooperative governance for network innovation, standards, and community, said: "To have four teams in the final of the SWIFT Institute Challenge is a tremendous achievement. It is fantastic and reflects the quality of teaching delivered at WBS, but also shows WBS is fast becoming a centre of education and research for the emerging Fintech industry.
"SWIFT is one of the most important institutions in the world of finance, and unique in that it is a co-operative society involving thousands of financial services companies and banks. To be able to meet and talk to CEOs and senior executives from these organisations attending the SWIFT Business Forum will be a great opportunity for the students and a fantastic experience for them.
"The financial services industry is going through profound change with the emergence of new technologies in the mobile payments and banking space. The opportunity for innovative and creative thinkers is one that should excite students and we may well see some of these contestants emerge with an idea that transforms the sector one day.
"Our Fintech module at the school is part of our MSc in Information Systems Management & Innovation course and has been going on for three years now, with our graduates landing jobs in major financial institutions and already making an impact.
"We will seek to develop more Fintech initiatives in the coming years such as the WBS PayTech event that took place for the first time this February. We wish all our students the best at the SWIFT Institute Challenge and look forward to welcoming even more students on our course next year."
The seven contenders
'Apollonia' team from King's College London – will present a solution that suggests banks capitalise on the potential offered by developments with drone technology to help deliver cash to the unbanked
'Bluebird' team from the University of Warwick, Warwick Business School – will present an app-based solution that uses private blockchains to match senders and receivers in different countries with built-in Know Your Customer (KYC) capabilities
'HADU' team from the University of Warwick, Warwick Business School – will present a solution targeted at delivering money to villages in Indonesia using NSDT (Near Sound Data Transfer) technology to deliver mobile money – and a system of branded buses
'Local Pay' team from the University of Warwick, Warwick Business School – will present a solution based on creating a vetted list of agents (corporations and individuals) within a country and using crowd-sourcing to deliver local funds where they are needed
'Mobile Money' team from the London School of Economics and Political Science – will present a solution that builds on the success of the MPesa model of mobile money in Kenya, by proposing a more rigorous approach to accountability of the transfers and considers use by those in East Africa without a mobile phone
'Neo' team from Queen Mary University of London – will present a solution that involves a KYC database to verify identity before being issued a secure code to unlock the transaction, then using a mobile app and prepaid card for collection of remittances
'Transfree' team from the University of Warwick, Warwick Business School – will present a solution that simplifies foreign exchange, using mobile codes to collect the money in-country
On Thursday the finalists will join SWIFT's Business Forum London event at Tobacco Dock to give a 10-minute pitch to a select audience of judges from across the financial services industry. Harriett Baldwin, Economic Secretary to the Treasury, will announce the winning team and present a cheque for £15,000.
The winning team will also be awarded travel and expenses to attend SWIFT's annual financial services event, Sibos, and the opportunity to pitch their developed solution at the Sibos conference in Geneva in September.
"The SWIFT Institute Challenge is a great opportunity for students to help form the future of the financial services industry," said Peter Ware, Director, SWIFT Institute at SWIFT. "Students also benefit from the opportunity to meet face-to-face with potential employers, investors or partners. We are excited to see the students pitch their innovative solutions at the SWIFT Business Forum London."
As a part of the challenge, each finalist will also receive complimentary presentation coaching and mentoring sessions ahead of the formal pitches at the event.
Following the 2016 showcase, the SWIFT Institute will review and identify additional industry challenges and markets to target for future competitions.