WBS finalists impress at Undergraduate of the Year
16 May 2018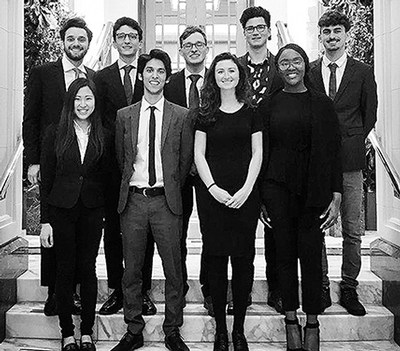 The awards celebrate the UK's best undergraduate students
Kudzai Moyo and Philipp John were finalists in the Innovation category
Duo impressed at all stages and attended the Grand Final
Prize for this year's winner was a two-week internship with Barclays
Two Warwick Business School students reached the final of the 2018 TARGETjobs Undergraduate of the Year Awards held at Canary Wharf in London.
Kudzai Moyo, who is in the first year of her BSc Accounting and Finance degree and Philipp John, a BSc Digital Innovation and Entrepreneurship student, were finalists in the Innovation category sponsored by Barclays.
Applicants for the awards went through several demanding stages from application, to online tests and an assessment centre or - in the case of the Innovation category - an Innovation Pitch Day.
For each category 10 finalists were invited to the Grand Final in Canary Wharf where the winners were announced. The prize for this year's Innovation winner was a two-week internship with Barclays as well as membership of Barclays Eagle Labs - a community resource space with access to mentors, experts and events - for one year.
Winners were announced in 12 categories, ranging from Future CFO to Construction and Engineering, each of which was sponsored by a prominent graduate recruiter.
Kudzai, who is doing her degree after completing a Foundation Year at WBS for students from disadvantaged backgrounds, and Philipp, also in his first year, were beaten to first prize but impressed at the Innovation Pitch Day where students were tasked with pitching an idea that aligned with the Barclays Shared Growth Ambition.
Philipp pitched 'Deepfleet,' an app which aims to digitally connect truck drivers and enable them to drive in fleets, subsequently saving fuel.
Meanwhile, Kudzai showcased a project she had previously worked on in Uganda. It aims to raise awareness of the harm of using bleaching cosmetics and the importance of embracing individuality.
Kudzai said: "I enjoyed the whole process, from drafting my initial application, pitching in Canary Wharf, to attending the awards.
"The highlight of it all was the amazing people I met. The Barclays team were ever so supportive and friendly and meeting people from the other categories was just as inspiring. At such a young age, it was amazing to see how much other people my age had achieved, alongside a degree and a social life!"
When asked for his top tips for those wanting to enter the awards next year, Philip said: "Your CV and charisma matters: it was not just what you pitched at the Innovation Pitch Day, it was also about the person you were and your previous efforts, hence a CV showcasing relevant engagement was important."
More information on the Undergratuate of the Year Awards can be found here.
If you would like to find out more about the courses on offer at Warwick Business School, why not download our 2019 brochure?